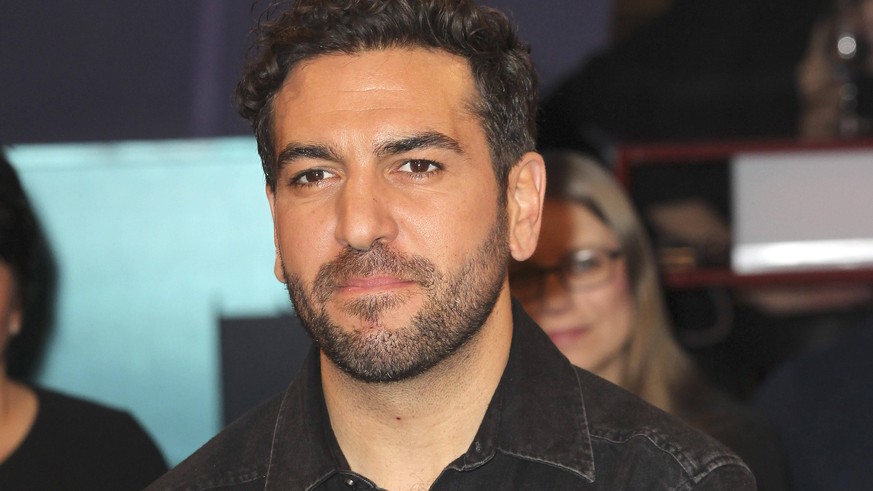 Elyas M'Barek was angry about an Instagram post from Netflix. Image: www.imago-images.de / Hein Hartmann
Fans rage against Netflix after supposedly funny post – Elyas M'Barek also interferes
With this Instagram post, Netflix Germany largely did not meet the taste of the followers – even prominent commentators tuned in. The streaming company regularly shares memes that reflect pop culture while promoting Netflix series. The company should better do without superficialities.
On the Instagram picture in question, actor Maximilian Mundt can be seen in his role as Moritz Zimmermann in "How to Sell Drugs Online (Fast)". In it, he plays a nerdy student who pulls up a drug delivery system in the nursery with his similarly unpopular buddy Lenny.
While Moritz sits slightly crouched and holds a cocoa in a tetrapack in his hands, KJ Apa can be seen as Archibald "Archie" Andrews from "Riverdale" on the other side of the picture. He also plays a student in the series – but shows his toned body including sixpack in the photo. Moritz and Archie are respectively surtitled with "Teenager in Deutschland" and "Teenager in Riverdale".
Actors meddle in Shitstorm over Netflix memes
It didn't take long for the Moritz actor to speak up about it himself. He just wrote: "rude", in German: "outrageous". But that's not all, because another prominent actor got involved and gave the slowly forming shitstorm a boost – Elyas M'Barek commented on the post with a simple but accurate "disrespectful".
Fans didn't find the body comparison funny either
Not only did Netflix have to plug in from a prominent side, the followers didn't find the body-related meme really funny either. Many stress in the comments that they would clearly prefer Moritz Archie. Because the actors who are cast for many American series would be more reminiscent of models than schoolchildren. One commentator sums it up in particular:
From the point of view of the followers, Moritz actually depicts the more realistic image of a young man from "How to Sell Drugs Online (Fast)". "Nothing against Moritz", write many others, whose actor Maximilian liked some of the statements. Netflix only responded to the actor's comment with a heart emoji; there has been no further comment on the misguided joke so far.
Not the first shit storm for Netflix this week
The company was just recently criticized for another issue: Since the new series "Ginny & Georgia" includes a quote that alludes to Taylor Swift's alleged wear and tear, the hashtag RespectTaylorSwift was created.
Fans supported their idol with the hashtag, found the comment in the Netflix hit inappropriate. Finally, the singer even spoke up on Twitter. Precisely because the streaming giant has released a documentary about her called "Miss Americana" and the sexist problems Taylor has to struggle with are thematized in it, she did not understand the controversial line from the script.
Swift wrote angrily: "What if we stopped humiliating hard-working women by defining this crap as funny?" Netflix also seems to want to sit out this Shitstorm without a statement – so far, at least there has been no statement either.
(cfl)


[ source link ]
https://www.watson.de/unterhaltung/netflix/404623190-elyas-m-barek-wuetet-gegen-netflix-respektlos

Elyas MBarek rages Netflix Disrespectful