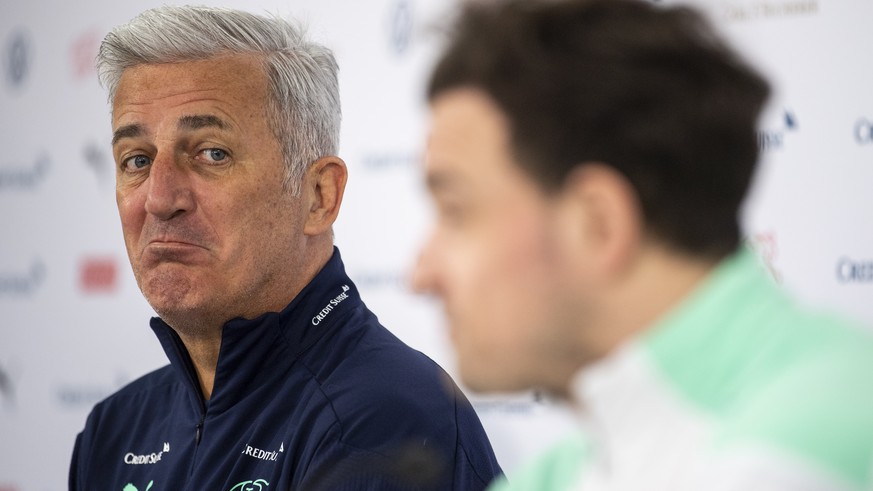 "It's a shame we can't see our families – but we're there to play football," says Xherdan Shaqiri. Image: keystone
Petkovic's advice to Shaqiri: "Then you just have to play Playstation from room to room"
How do the Swiss national players spend their free time between two World Cup qualifiers? And what can be expected from the Sunday duel against Lithuania? Vladimir Petkovic and Xherdan Shaqiri provide answers.
Three points from Bulgaria in their luggage, a problem-free trip, no injured players, no corona cases – the good mood of the Swiss national team is a logical consequence of this past week. Only something is missing: normally the days between two games would be the moment when the players could see family or friends.
Because of Corona, this is now not possible. "I travel from bubble to bubble, so I'm used to that," says Xherdan Shaqiri. "Of course it's a shame that we can't see our families. But that's the way it is. We're here to play. " When Shaqiri talks, Vladimir Petkovic looks over at him and says with a smile: "Then you just have to play Playstation together from room to room."
Shaqiri: "We have to play better in the second half." Video: SRF
The national coach looks pretty relaxed the day before the second Swiss World Cup qualifying game against Lithuania. That is perfectly logical. After all, after the 3-1 win in Bulgaria, everything is going according to plan for him too. It is a state of mind that he has certainly not been able to experience too often in the last few months or years before and between the international matches.
Petkovic is relieved to see the successful start. He also noticed that Switzerland slacked off a bit in Bulgaria after the break. But he doesn't want to blame his team too much. "There are some big teams that had pretty big problems at the start. The Italians were not at all satisfied with the second half in the 2-0 win against Northern Ireland. " France (against Ukraine), Spain (against Greece) and Holland (against Turkey) have even lost points.
It is games like this that serve as a warning for Petkovic not to let up now. Games like the one against Lithuania have to be played first, and victory is never a given. "We did well with it, chapter by chapter," says Shaqiri too. «We know that it can be uncomfortable against small opponents. They are aggressive and sometimes commit a lot of fouls. That is why it is important to show from the start that we are self-confident. "
Petkovic: "Respect for the opponent is very important." Video: SRF
Has there been a change in the Swiss line-up?
The question now is whether Petkovic is planning a move for the Lithuania game. «I've already given a few thoughts. Medically everything is okay. And the players are used to playing every three days from their clubs, "says Petkovic. That's a pretty clear announcement by his standards that he's not going to move.
THANK YOU FOR THE ♥
Would you like to support watson and journalism? Learn more
(You will be redirected to complete the payment)
These are the Nati marks in the win against Bulgaria
Swiss national players on racism
You might also be interested in:
Subscribe to our newsletter


[ source link ]
https://www.watson.ch/sport/fussball/747403492-em-qualifikation-petkovic-und-shaqiri-erklaeren-die-spiel-vorbereitung

European Championship qualification Petkovic Shaqiri explain prepare game