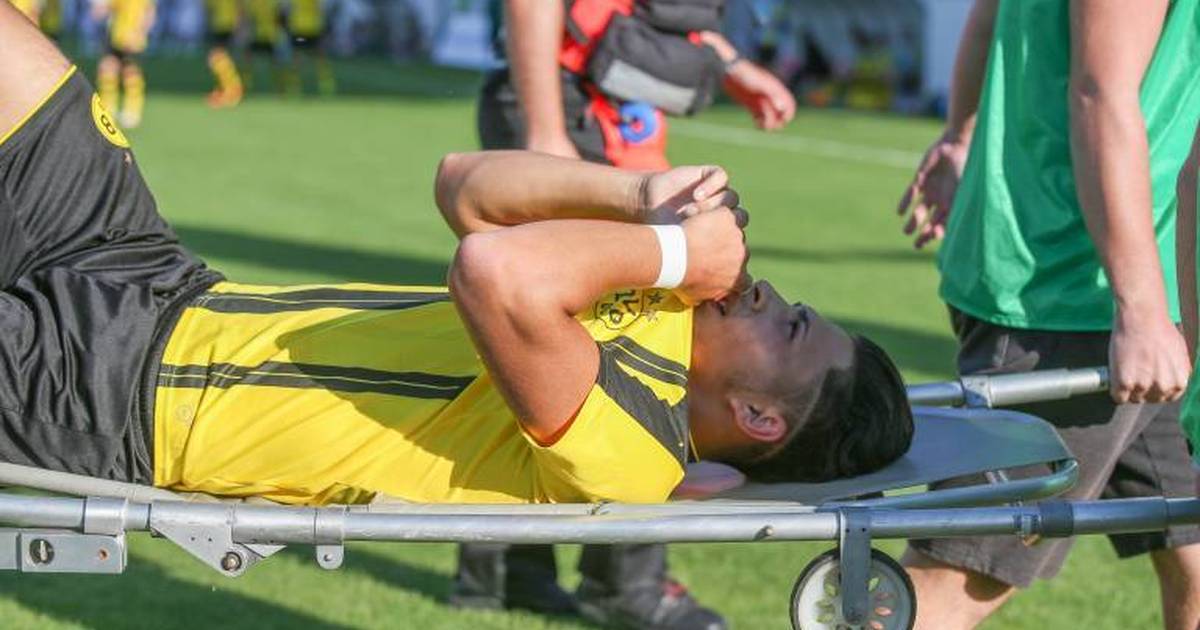 Dario Scuderi ended his career in 2019 at the age of just 21.
After a tragic injury that he suffered in a BVB Youth League match at Legia Warsaw in 2016, the risk for the youngster was too great.
When blocking a shot after a sprint, Scuderi suffered a double cruciate ligament tear, an outer ligament tear and a meniscus damage, among other things.
At first he had "not at all" realized that his knee was adjusted again and that he was then driven away in the ambulance. "I was completely in shock," said Scuderi Spox and Goal.
At first, he did not feel any pain "thanks to the shock and numerous painkillers". But "when I was back at the hotel in the evening, my knee was boiling and red and thick as a football", the next morning even "as thick as two footballs".
Scuderi "was completely shocked"
The flight home with the team turns into an ordeal. "I could hardly anymore. It became so unbearable for me that I was put in an ambulance at the airport and an emergency operation had to be carried out because there was simply too much pressure in my knee," reports Scuderi.
All the video highlights of the DFB Cup in the SPORT1 media library and in the SPORT1 app
Before the operation it was said, "You would open my whole leg so that the liquid runs out. Before the anesthesia, the doctor said: 'Because of the high pressure on the knee, I cannot guarantee that you will keep your leg. You have to reckon the odds are 50 to 50. ' I was completely shocked. "
Knee specialist: "Never seen anything so bad"
Scuderi continues: "When I woke up, I immediately lifted my blood-soaked cloak. The stones just fell from my heart so much that my leg was still attached. There were screws and a lot of other stuff in there, I felt like them Terminator. But I didn't give a shit at the moment. "
DFB-Pokal Pur – the highlights of the quarter-finals, Thursday from 8.15 p.m. on TV on SPORT1 and on STREAM
The renowned knee specialist Doctor Michael Strobel in Munich, whom Scuderi visited three weeks later, "said he had never seen anything so bad".
Scuderi fights back
Despite ten operations, Scuderi fought his way back impressively and even managed to be nominated for a squad in a competitive reserve game in 2019. But it didn't get any more.
"It was clear that the contract would not be extended because my background could not guarantee me a permanent place in the U23," said Scuderi, explaining his decision to end his career: "I still received offers from the regional league, but that corresponded not my ambition. "
Because he had "fought all his life to get into the Bundesliga or the 2nd division".
Scuderi wants to be a junior coach
BVB then made him an offer to "start as a coach at the football academy. That seemed more future-proof to me than an uncertain situation in League 4. I never wanted to leave BVB anyway and so I was able to stay with my heart club."
In the meantime, Scuderi has acquired the B license and has also completed a six-month training course on game analysis and scouting with the top grade.
"My dream is one day to work as a scout or trainer in the Dortmund NLZ," said Scuderi.


[ source link ]
https://www.sport1.de/fussball/dfb-pokal/2021/03/ex-bvb-talent-dario-scuderi-berichtet-von-horror-verletzung

ExBVB talent Dario Scuderi reports horror injury