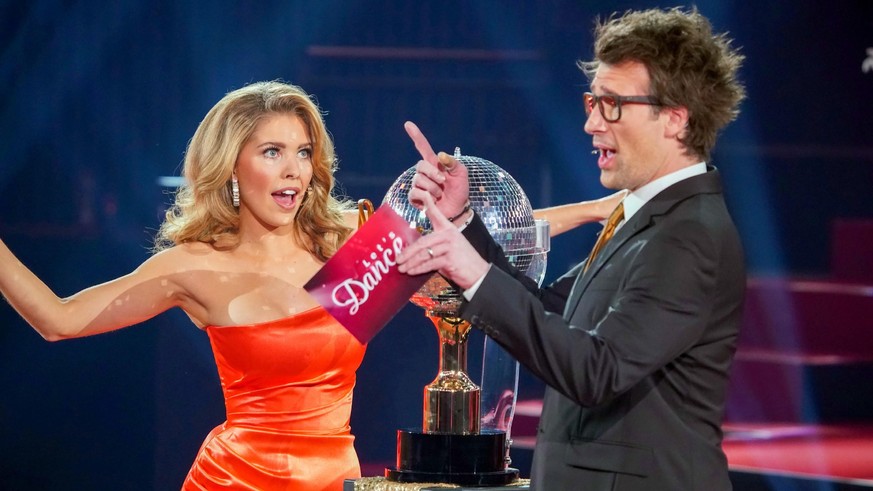 Victoria Swarovski and Daniel Hartwich will also be performing "Let's Dance" together in 2021. Image: TVNow / Stefan Gregorowius
Analysis
Shortly after the start of the season: Why fans want to boycott "Let's Dance" – RTL comments on the vortex
Last Friday the time had come, "Let's Dance" started its 14th season on RTL. Many traditions go hand in hand with the popular dance show, for example that a few days before the show starts, the professional dancers are announced and, as a result, the celebrities are partnered with the professionals. But for some time now, the procedure has been causing displeasure among viewers.
When the veteran juror Joachim Llambi announced in mid-February that professional dancer Massimo Sinato will not be able to participate in 2021 because he will soon be a father, the audience already suspected that this might not be the only disappointment. The suspicion quickly became loud that the frustration from last year could be repeated and show darling and dancer Ekaterina Leonova might not be there again.
Audience fears about Ekaterina Leonova on "Let's Dance" come true
This was finally confirmed when the professional cast was announced. With Pasha Zvychaynyy and Patricija Belousova there are new faces, there is also a reunion with, among others, Vadim Garbuzov, who together with Nicolas Puschmann forms the first German male dance couple in "Let's Dance". However, there is no trace of Ekat, as she is called by the audience.
She was especially sorely missed when she introduced this year's "Let's Dance" season on her Instagram page last Friday and addressed benevolent words to her former TV colleagues:
"I fondly remember my seven years at 'Let's Dance' and I am incredibly grateful to have been a part of it. I wish all participants good luck, good luck and a lot of patience. Give it your all and enjoy every moment of the show am mentally with you. "
"Let's Dance" fans are threatening a boycott
Although at this point it was already clear that Ekaterina Leonova would not be a surprise guest either, there was a lot of resentment among the social media post. Some viewers even threatened a boycott: "Well, without me. Without Ekat, no 'Let's Dance'."
Other users had similarly sharp criticism: "It's a shame you're not there again" and "Don't look because I think it's unfair that you are not there", can be read in the comments. After all, some even suspect that the statement is a final farewell to the RTL broadcast.
That's what RTL says about a possible Ekat comeback on "Let's Dance"
watson asked RTL. A spokeswoman did not want to comment on the specific case of Ekaterina Leonova and the possible comeback chances, but explained in general:
It remains to be seen whether the celebrities who will be there in 2021 would not have one or the other suitable dance partner for Ekat. At least a number of viewers on Twitter could have imagined the Icelandic ex-soccer player Rúrik Gíslason as the perfect partner for Ekaterina. However, the RTL statement continues: "As in previous seasons, we would like to give new professionals the opportunity to take part in 'Let's Dance' this year."
Ekaterina celebrated unprecedented success on the show
Because we remember: Ekaterina managed to win the show three times in a row. The winning streak began in 2017 with Gil Ofarim, a year later she danced with comedian Ingolf Lück and surprisingly led him to victory. After all, she performed in her last season in 2019 with Pascal Hens and she also promoted him to the podium. And almost immediately afterwards, RTL began "dropping" the dancer.
In 2019 Ekaterina Leonova was allowed to take part in "Let's Dance – The Great Professional Challenge", where she danced with colleague Massimo Sinato – and won. The price of the challenge should be that the two winners can choose their celebrity dance partner themselves in the coming season. In 2020, however, only Massimo was there, there was no trace of Ekat. So far, she has not been able to redeem her winnings.
RTL dropped Ekaterina after her victories
Another tradition is that the winning couple from last year can perform their winning dance again at the beginning of the next season. This year it was Massimo Sinato and the artist Lili Paul-Roncalli. Afterwards, the jury thanked them extensively and the dancing couple also had their say again. Massimo even had the opportunity to say goodbye to the soon-to-be paternity leave with wet eyes.
And here the difference becomes clear: Because in the previous year Ekaterina was allowed to go on the floor again together with the ex-handball player Pascal Hens, but a little speech was not reserved for her. Instead, the show continued straight after the dance. Ekaterina had tears in her eyes as she thanked the audience with bows.
"So much for the Dancing Star 2019, now we come back to the 2020 title fight", moderated Daniel Hartwich simply on. Without a word, Leonova and Hens disappeared from the stage. Why she didn't even get the opportunity to say something in the live broadcast from RTL remains unclear to this day.
The dancer herself would like to be back in "Let's Dance"
Meanwhile, Ekat never tires of using social media as a stage and regularly mentions that she would like to be part of the show again. She doesn't seem to know herself whether she may be allowed to compete again in the coming years. When a fan asked if there will be a reunion with her in 2022, she responded with a shrugging emoji – already the clearest sign, because otherwise she too seems to keep quiet about it.
However, Ekat is not disgraced in this way by other TV programs: At the moment she can be seen on "Das große Promibacken" on the competing channel Sat.1 – apparently another step away from the "Let's Dance" comeback soon.
In addition to Ekat, other dancers have also had to sit out for years for no reason, Vadim Garbuzov last danced with Tina Ruland in 2018. The other professionals on the show enjoy a certain popularity with viewers, but they do not come close to the values ​​of Ekaterina Leonova.
The professional dancer is not the first popular "Let's Dance" great to be banned from the station. The former presenter of the show, Sylvie Meis, was simply replaced after seven seasons in 2018. Victoria Swarovski has moderated the format since then. Here too, RTL did not owe precise reasons to the disappointed viewers.
Sylvie Meis moderated "Let's Dance" from 2011 to 2017. Image: Getty Images Europe / Lukas Schulze
Little hope for fans: RTL does not show the "Let's Dance" cast in the cards
Why RTL is no longer allowing the audience's favorite to compete remains a mystery – At least in the meantime there was a rumor that Ekaterina simply won too often in a row and that the other dancers and celebrities were slowly but surely without a chance. However, this has never been confirmed.
In any case, it seems to be safe with the secrecy: RTL takes no account of the wishes of the viewers – the broadcaster has never done that in the format. And this despite the fact that from now on, calls will determine the progress of the candidates week after week. But when it comes to the celebrity-pro pairings, the audience has nothing to report. The TV broadcaster obviously does not want to let this decision be taken out of its own hands.
It still works anyway: Almost five million viewers tuned in when the celebrities were partnered with the dancers on February 26th.
In the end, Ekaterina Leonova RTL has to be grateful: After she finished her studies in Düsseldorf and couldn't find a permanent job in Germany, she was threatened with deportation. The TV station prevented that by getting the dancer a job in RTL's online editorial team. It could also have something to do with the fact that as an employee of RTL she no longer gets a second job as a dancer – as tragic as that would be for her dance career.


[ source link ]
https://www.watson.de/unterhaltung/analyse/440442386-fans-wollen-let-s-dance-boykottieren-nun-aeussert-sich-rtl

Fans boycott Lets Dance RTL expressing