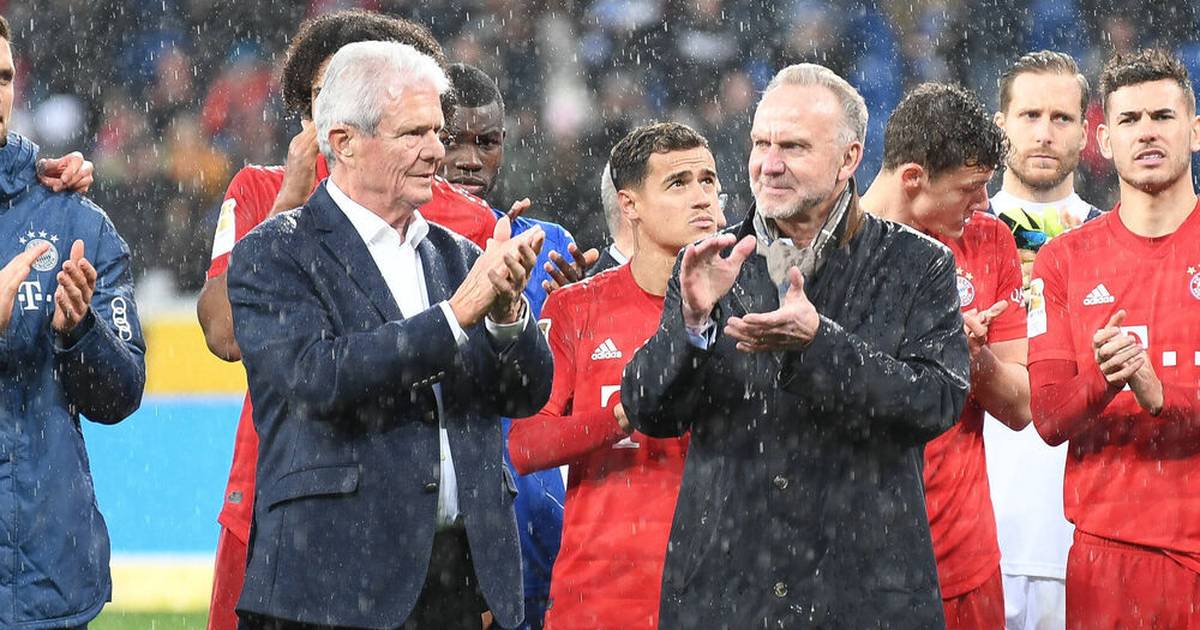 The 6-0 gala of FC Bayern at TSG Hoffenheim became a minor matter on February 29, 2020.
Instead, the posters of Bayern fans against TSG patron Dietmar Hopp caused a huge scandal!
After two interruptions in the game, the game was even about to be canceled and ended with 13 minutes in which Bayern pushed the ball back and forth in standing football. The people of Hoffenheim stood there, petrified, and let this happen. (That's what Hopp said about the scandal)
Immediately after the final whistle, Bavaria's CEO Karl-Heinz Rummenigge and Hopp rushed onto the lawn. Both teams applauded the investor in front of the stands. (Bundesliga table)
Hopp scandal staged by clubs?
The pictures were seen as a positive signal in the fight against hostility to Hopp. The record champions in particular received praise.
But was much of the scandal just staged by the clubs?
"The current sport studio – the documentary" raises this question on Saturday evening ("The trial. How Dietmar Hopp became the ultras hate figure"). There the authors Jochen Breyer and Jürn Kruse investigate the incidents in Sinsheim.
According to the research, the scandal shines in a new light.
The CHECK24 double pass with Christoph Daum on Sunday from 11 a.m. on TV on SPORT1
Hoeneß had contact with Hopp
Because: The plans of the Bayern Ultras were known to both clubs two days before the game!
This is confirmed by Munich's honorary president Uli Hoeneß on the show. He says that he heard "something ringing" when the Südkurve Munich was invited to celebrate the club's 120th anniversary. (Results and schedule Bundesliga)
Hoeneß also reports of a "direct contact" with his friend Hopp before the scandal and thus confirms that the patron also knew about the abuse. The documentation also shows that the DFB and, accordingly, the referees of the game were inaugurated.
The reactions of the two teams were probably not as spontaneous as previously assumed.
Watzke consultant: "A play"
That proves another statement.
Sky-Reporter Kai Dittmann, at the game on site, noticed something at the time. During his usual check-up at the clubs before kick-off, Hopp's good deeds were listed with a striking amount of detail. Intentional emphasis? "Yes, definitely," says Dittmann.
Based on this evidence, Jan-Henrik Gruszecki, the former head of the Dortmund ultra scene and today's advisor to BVB managing director Hans-Joachim Watzke, comes to the conclusion: "I think it was a play, a production."
Test DAZN for free and experience the Friday and Monday games of the Bundesliga live & on demand | DISPLAY
Breyer explained this in the taz: "What surprised me the most: That before the game in Sinsheim almost everyone knew what was going to happen, TSG Hoffenheim, FC Bayern and the DFB."
He added: "The fact that the responses of those responsible were apparently also planned and that it was overdone at one point or another, that changed my view of this day and this conflict."


[ source link ]
https://www.sport1.de/fussball/bundesliga/2021/03/fc-bayern-und-hoffenheim-wussten-bescheid-hopp-skandal-teils-inszeniert

Bayern Hoffenheim knew Hopp scandal partly staged