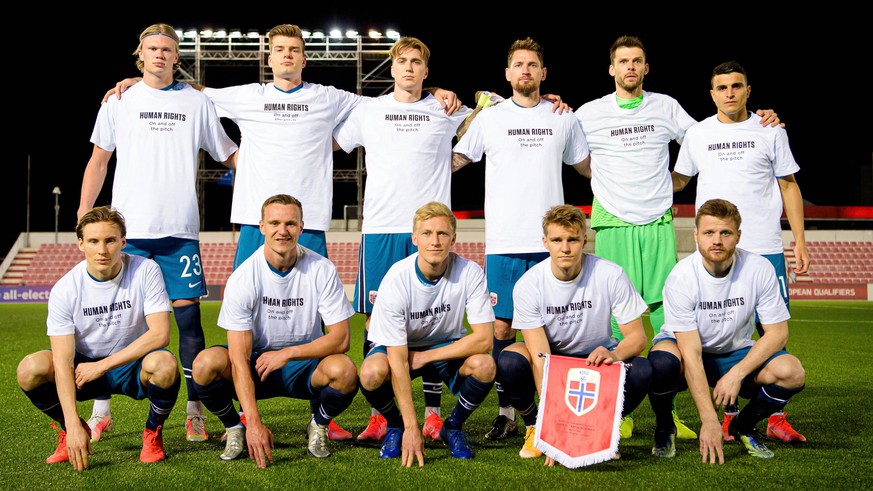 Norway's special team photo before the game in Gibraltar. Image: www.imago-images.de
Haaland and Co. in special shirts – this is how Norway protests against the World Cup in Qatar
Norway's national football team caused a sensation at the start of the World Cup qualification even before the kick-off. The players wore two different T-shirts when they played in Gibraltar to draw attention to the problems surrounding the 2022 World Cup in Qatar. Most recently there were reports that more than 6,500 construction workers were killed in the host country of the tournament.
The warm-up contested Erling Haaland, the star striker of Borussia Dortmund, and his teammates in shirts with the words "Respect – on and off the pitch".
Martin Ödegaard and Erling Haaland (left) in the warm-up shirts. Image: www.imago-images.de
After the teams returned from the dressing room to the field for the national anthems, the Norwegians wore a special shirt over their match jerseys. This time they did not demand respect, but the observance of human rights.
Haaland during the national anthem. Image: www.imago-images.de
The game was played by the Norwegian selection in blue jerseys – without any special imprint. Thanks to hits from Alexander Sörloth, Kristian Thorstvedt and Jonas Svensson, Norway celebrated a 3-0 mandatory victory at the foot of the Affenfelsen.
Arsenal's Martin Odegaard is Norway's captain. Image: www.imago-images.de
The game was one of the World Cup qualifying group G. In the same group, Turkey started with a 4-2 home win against the Netherlands.
At the beginning of the month, six clubs from the highest Norwegian league asked the national association to boycott the World Cup in Qatar. However, this was not heard at the association headquarters.
FIFA President Gianni Infantino subsequently stressed that a World Cup boycott was not the right approach. One had to see the improvements that had already been made in Qatar in the area of ​​human rights issues. "Our position at FIFA has always been and always will be: engaging in dialogue and getting involved is the only and best way to bring about change," said Infantino. (R.A.M)
More football:
THANK YOU FOR THE ♥
Would you like to support watson and journalism? Learn more
(You will be redirected to complete the payment)
All stadiums of the 2022 World Cup in Qatar
This is how Qatar is cooling its stadiums
You might also be interested in:
Subscribe to our newsletter


[ source link ]
https://www.watson.ch/sport/fussball/109007799-haaland-im-spezial-shirt-norwegen-protestiert-gegen-die-wm-in-katar

Haaland special shirt Norway protests World Cup Qatar