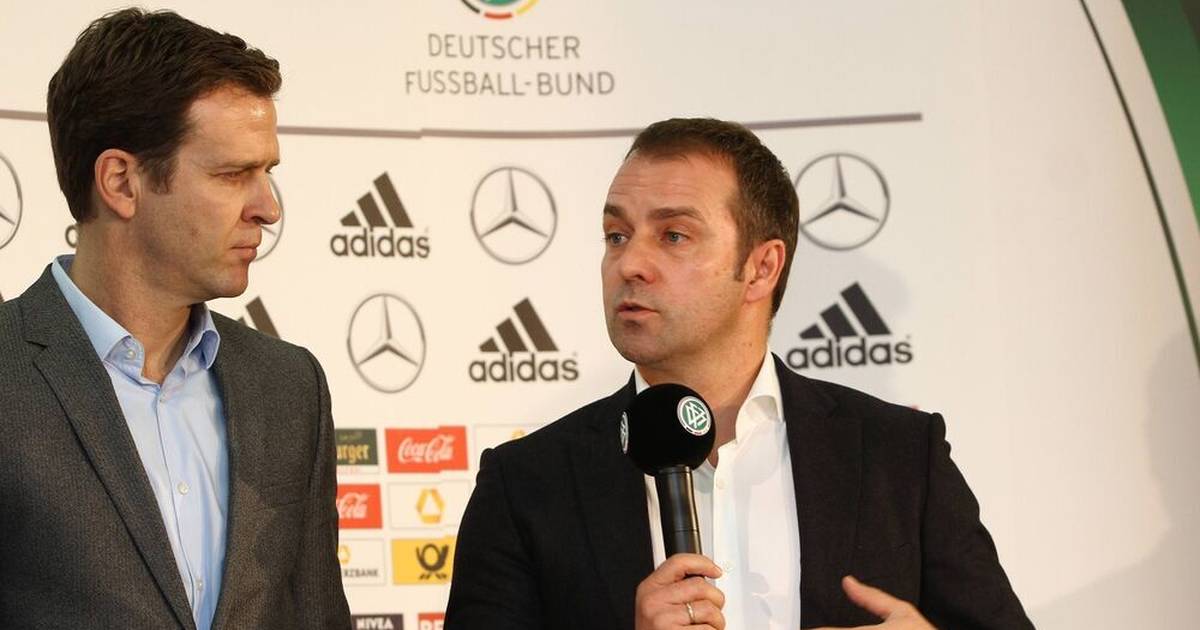 Can Bayern finally be sure?
To SPORT1-Information, Hansi Flick does not intend to ask FC Bayern for clearance for the vacant national coaching post.
The CHECK24 one-two with Christoph Daum on Sunday from 11 a.m. on TV on SPORT1
Flick has the confidence of the Bayern players
As a reminder: only in this case would it be even conceivable that the paths of the successful coach and the Munich team will part ways this summer despite a contract until 2023 without an exit clause.
Although the job of national coach appeals to Flick, he does not intend to go on his own – the reasons for this are obvious: the players follow him blindly, he has helped a number of frustrated stars to regain their enthusiasm and top form (Thomas Müller, Jerome Boateng).
Even backup players like Lucas Hernández subordinate themselves and hide their displeasure with being a reservist and deliver as soon as they are deployed.
In addition, Flick has a very special bond with his team of trainers and experts. He gives his co-trainers (Toni Tapalovic, Danny Röhl) a lot of freedom, and he regularly praises team manager Kathleen Krüger and the medical team.
Relationship between Flick and Salihamidzic on shaky legs
Board boss Karl-Heinz Rummenigge worked on behalf of the executive suite and once again told Flick that he is currently irreplaceable.
Not to be neglected is the fact that Flick has not yet had a chance to enter into a symbiosis with the Bayern fans. Nobody would understand if he suddenly left Bavaria. Neither Flick nor the players have had the chance to celebrate the sextuple properly. He wants to make up for that and, at best, celebrate with them again winning the Champions League.
Another point: If Flick left in the summer, it could look like an escape from Hasan Salihamidzic. After their differences of opinion, the coach and the sports director have publicly closed truce. Nevertheless, their relationship is still on shaky feet.
Inside the club they say: "The two will no longer be lovers. Inside the club they also say: »If Flick went, Salihamidzic would probably not mind. Because in this case he would become even more powerful and could choose the next coach himself.
Test DAZN for free and experience international football highlights live & on demand | DISPLAY
New national coach: Bierhoff seeks advice from Flick
To SPORT1-Information, National Team Director Oliver Bierhoff knows through his numerous conversations with his friend Flick that he currently has no plans to ask for clearance for the DFB. He is also said to have asked Flick who could be the right national coach for him.
In any case, the Bayern bosses do not want to let Flick go and he feels comfortable in Munich. He does not want to comment on the national coach question these days. He says he said everything.
Nevertheless, both continue to forego a clear denial. Bierhoff does not say that Flick will not be a national coach. Flick doesn't say he doesn't want to be. The reason: Bierhoff is waiting to see if anything changes at Flick.
Become Germany's tip king! Register now for the SPORT1 prediction game
Flick: Will the peace summit hold with Salihamidzic?
Does the Bayern coach get more power in transfer issues? Is the quality of the squad sufficient to meet the highest Bayern standards in the next season? Does the peace summit hold with Salihamidzic? Will the designated CEO Oliver Kahn jump to his side just like Rummenigge, who is leaving at the end of 2021?
Open questions that cannot yet be answered and that Flick is waiting to develop. That is why Bierhoff relies on time with its desired solution (Flick) and waits.
If Flick stays in Munich at the end, as is to be expected, he can still fall back on his recently highly praised "internal solutions" and promote Stefan Kuntz (U21).
You can find out more about the national coach search in the new SPORT1-Podcast "My Bavaria Week"!
There speaks SPORT1-Chief reporter Florian Plettenberg with SPORT1-Moderator Jana Wosnitza on the topics and news of the week at FC Bayern and the German national team. From now on every Friday: In the second episode, "Plettigoal" also interviews Stefan Backs. The player's agent speaks openly like never before about Alexander Nübel's move to Bayern and explains why he would like to loan out his clients. A Real Madrid insider gives his opinion on Lucas Vázquez. Of the SPORT1-Podcast "My Bavaria Week " is on podcast.sport1.de, in the SPORT1 app and on the popular streaming platforms Spotify, Apple Podcasts, Amazon Music, Deezer and Podigee.


[ source link ]
https://www.sport1.de/fussball/2021/03/hansi-flick-mit-wichtiger-entscheidung-dfb-wechsel-jetzt-vom-tisch

Hansi Flick important decision DFB change table