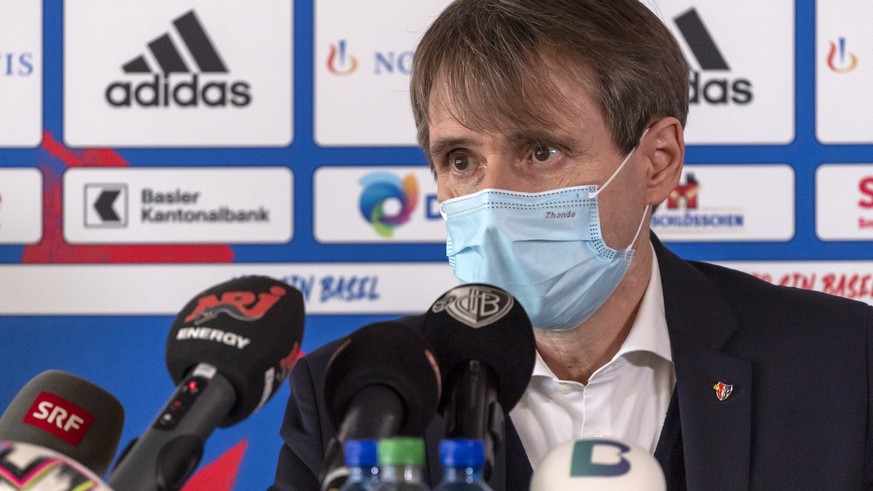 Bernhard Burgener on Friday in St.Jakob-Park. Image: keystone
How FCB boss Burgener cleverly advertised himself
At the presentation of the business figures for 2020, FC Basel owner Bernhard Burgener presented a profit. Above all, however, he uses the opportunity to advertise himself and foreign investors before the big showdown.
Bernhard Burgener's public appearances have become rare. If you leave out the handful of interviews on television, then his last appearance in front of the media dates from the end of August. Back when the idea of ​​Ciriaco Sforza turned into a question and answer session for the owner. The performance was a disaster. Burgener presented his ideal world in the midst of chaos, as described by several media in the aftermath.
All the more surprising was the invitation on Thursday evening to a press conference with Burgener on the following day. He wants to report on the 2020 financial year and provide an outlook for 2021. The presentation of the business figures, which used to be a fixture on the FC Basel calendar, had been canceled in the past two years. The figures were published on the website. Not more.
And now, of all times, Burgener wants to express himself publicly. In a situation in which the whole city wants to know whether he will accept David Degen's offer and thus place the club in the hands of the ex-player. Or the club will pass to the British from Centricus and the Basel Dream & Vision AG construct. The board of directors of FC Basel Holding AG should decide on this on Monday.
Profit without Corona aid money
After Burgener's competitor Degen performed a media power play this week, Burgener's appearance on Friday seems to have at least some calculation. It's a final letter of application. A hint of how well the club has done since it was taken over in the summer of 2017. And in particular, how he managed this club in the pandemic despite a slump in viewer income of 10.2 million francs with a profit of 1.4 million francs from 2020. Without corona aid money, which has only been flowing since 2021.
Burgener uses the moment of good numbers to deliver one of his most confident appearances since taking office. He seems less attacked than usual, less hectic. With the laptop in front of his nose and a Powerpoint presentation, he seems to be in his element. It goes without saying that the numbers still speak for him. Because what he can present – purely economically – is actually good. After a financial year 2019 in which it posted a loss of 19 million francs, FCB has now been able to show a profit.
He received 36.6 million francs through transfers and reduced wage costs by 13.8 million francs without major layoffs. Good numbers that are also linked to luck. The lower wage costs correlate with various highly dated, expired contracts. The fact that you really played poker in 2019 and could not sell valuable players until 2020 and before the bubble burst has to do with calculation, but it has to work out first.
Protest against the club leadership: Basel fans two weeks ago. Image: keystone
A dossier with an international touch
In the end, however, it is a good dossier for Burgener's cover letter. Except that this also contains a few errors. As previously stated, the President did not want to comment on the power dispute with Degen. "I will adhere to confidentiality agreements," he says, adding that information will follow in the next few days.
And yet he did not miss the opportunity to give his application letter an international touch with the flower. «I refer to Enic, who saved FCB's life twice. And they were English. " A rogue who thinks bad and connects to the British from Centricus. But his statements are clearly ambiguous: "I was always open to partners, the city of Basel is like that too."
Finally, the MCH Group recently showed what international aid could bring. In the end, he is only concerned with one thing: "That the club is healthy and that it will survive in the long term." If he ever surrenders it, it will only be in Basel hands. And if he stays, then only if he can keep control. He would have fulfilled these two points with his construct. Dream & Visison AG is based in Basel. And he would still be in charge there.
Burgener does not confirm anything this Friday. But neither does he deny anything. And without really giving a message in the ownership dispute, he sent one last signal at a tactically cleverly chosen time before the big showdown on Monday.
THANK YOU FOR THE ♥
Would you like to support watson and journalism? Learn more
(You will be redirected to complete the payment)
The turbulent FCB time under President Burgener
Ballerina without arms impresses on Instagram – and becomes a star
You might also be interested in:
Subscribe to our newsletter


[ source link ]
https://www.watson.ch/sport/fussball/728284008-wie-fcb-boss-burgener-geschickt-werbung-in-eigener-sache-gemacht-hat

FCB boss Burgener cleverly advertised