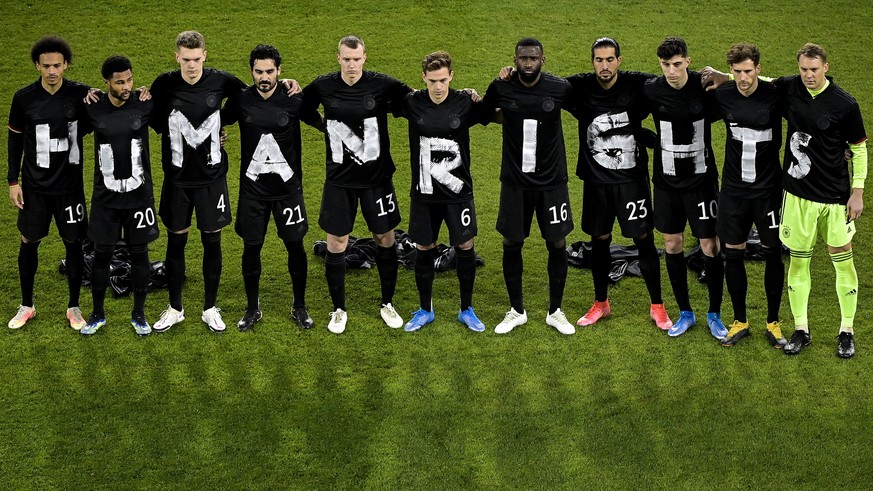 The German starting XI against Iceland. Image: keystone
How the DFB is cannibalizing its commitment to human rights
Before the World Cup qualifier against Iceland, Germany's national football team caused a stir with a protest on Thursday evening. The players wore T-shirts with large letters that, if they were lined up, read "Human rights" – the English expression for human rights.
The DFB team received praise for the statement. But it was also criticized for only half-heartedly taking sides against Qatar, the World Cup host in 2022, with the shirts.
At the latest today, the day after the 3-0 victory of the Germans, the sympathy turned. Because early on Friday evening, the DFB published a making-of video that shows how the shirts were made:
The fact that the German Football Association is now staging and celebrating its good deed in the media is not well received by the scene.
"Age. How stupid can you be », says Philipp Köster, for example, Editor-in-chief of the magazine "11 Freunde".
His professional colleague Sebastian Wessling von der WAZ states: "If you had just left the action yesterday, it would have been wonderful. Such a glossy video turns it into a soulless marketing campaign. Pity."
For Thomas Nowag from the Sportinformationsdienst agency it is "the end of hope that it was spontaneous and not exploited." (R.A.M)
More football:
THANK YOU FOR THE ♥
Would you like to support watson and journalism? Learn more
(You will be redirected to complete the payment)
These are the Nati marks in the win against Bulgaria
Important advice to my starting pandemic me
You might also be interested in:
Subscribe to our newsletter


[ source link ]
https://www.watson.ch/sport/fussball/694098131-wie-der-dfb-seinen-einsatz-fuer-menschenrechte-nun-ausschlachtet

DFB cannibalizing commitment human rights