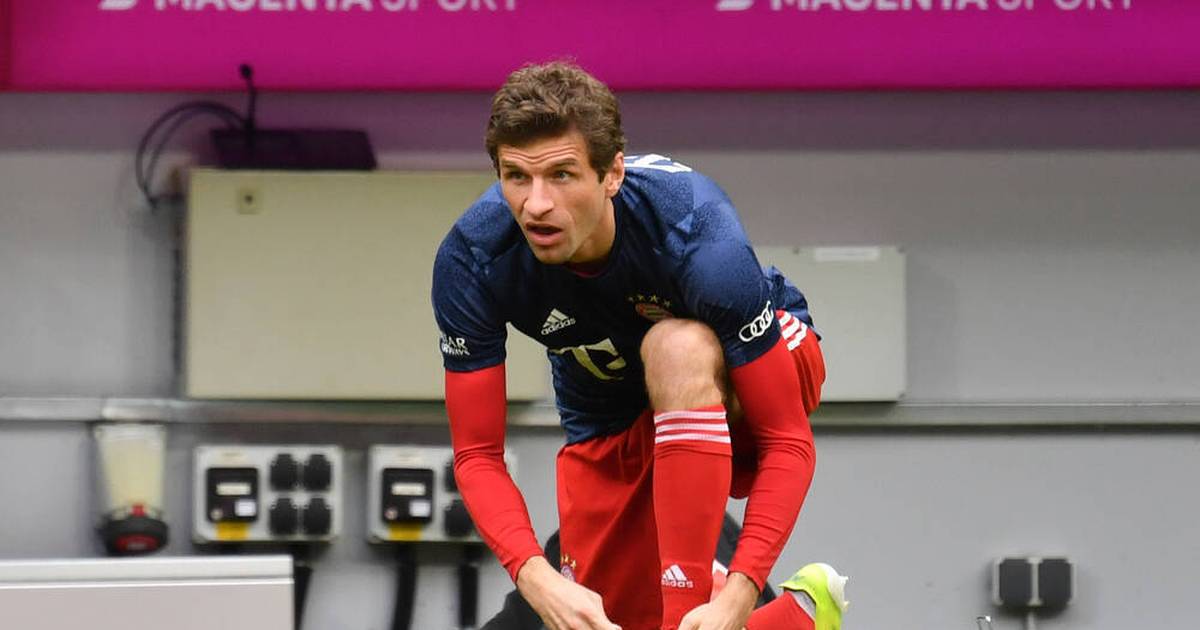 Most English people don't have to explain what a "Bratwurst" is, a "Doppelganger" or a "Dachshund": These German words have made it into English usage along with a few others – and they may also remember another one.
"The spatial interpreter," says the Mail on Sunday today Thomas Müller from FC Bayern Munich presented in German.
In a large interview conducted via Zoom, the 31-year-old explains to the international audience what an "interpreter of space" should be like – and amused his interview partner Rob Draper in his own way with a zombie imitation ( "He makes grimaces at the camera, leans alarmingly close to the laptop and says 'Urrrrrghhhh!'") – when he explained a game situation in which defenders stared too zombie-like at the ball.
He also talked about the German-English conflict over DFB debutant Jamal Musiala, his experiences with Pep Guardiola – and why he feels his own image is too mythically charged.
Become Germany's top tipster! Register now for the SPORT1 prediction game
SPORT1 has put together the most exciting statements.
Thomas Müller about his special qualities:
"They can be coached, definitely. People make a bigger thing out of it to explain to themselves or to others that a player without special physique, technique or dribbling skills is so efficient. Maybe people watched me in my younger years and saw how I scored two goals and asked myself: How is that possible? So they came up with a kind of myth to make something special out of it, which is actually logical. "
About the logical explanation of its success:
"Maybe it's special that I do it over and over again. Every good offensive player knows moves that are dangerous for the opponent, but they may not be strong enough to make them 50 times. You may lose the ball 49 times. Football It's a game full of mistakes. You have to try again and again. And the 51st time you score because a defender makes the mistake. To look at it that way is more logical than that I have an innate talent. "
The CHECK24 double pass with Christoph Daum on Sunday from 11 a.m. on TV on SPORT1
About the time under Pep Guardiola:
"It was our pound that Pep came after our big win in 2013. Jupp Heynckes has retired and Pep did everything to be successful. So we didn't have time to rest on our laurels, because Pep got us in Kicked every training session in the ass because he wanted to show the world that he could do it in this new league. That was important to become champions at that time. "
About Guardiola's tactics:
"Pep Guardiola always had a plan for us. And after ten minutes we had four or five more plans because he changed everything. He studied the opponent and thought, 'Oh, my first plan wasn't good enough or it didn't work 'When he was with us, Pep Guardiola said:' I'll take you to the penalty area, then you have to show me your talent and your intuition. He planned everything up to 20 meters in front of the goal, then we had Franck Ribéry there , Arjen Robben, Mario Gomez, Mario Mandzukic, Mario Götze, me, Douglas Costa and he said to us: 'I'll get you to this line, then you have to do your job. "
On the subject of "laptop trainers":
"The game is developing, also off the pitch, the coaches are trying to be more systematic, they are better prepared for details. Perhaps in the past it was more sufficient to give the team a good feeling, to be able to work well with the players, to talk them through but I think tactics are more important, business has become more systematic. "
Over the years after Guardiola:
"After Pep we had two or three years in which other teams had their chance – just like last year. We had weak moments, also weak weeks, but they didn't take advantage of it. Maybe we were a little lucky, I can do it not explain. Or maybe we were just better. "
About Jamal Musiala:
"I don't know whether we stole it from England. We are very happy that Jamal has chosen Germany. His long-term contract with FC Bayern and his decision for the German national team: it fits very well."
About a possible DFB comeback at the EM 2021:
"I hope there is a chance that we will see each other at the European Championships, but we have to see what the next few weeks bring."
About the comparison Bundesliga – Premier League:
"I'm a big fan of the Premier League because there are so many great teams there, but I don't know if the quality is really better in the end. When we play English teams I don't feel like they are super-super-strong are. […] It's the biggest league in the world, yes. But that doesn't mean that the top five teams will easily win any international competition. When the fourth in the Premier League plays against the fourth in the Bundesliga, everything is open. "
About the pressure at FC Bayern and in football itself:
"You will be three years older in a year at FC Bayern. The intensity is very high, also in the media. Each of our friendlies runs on German television, you have no rest time. Every bad pass, every missed shot has the result that everyone says: 'Oh 'Thomas Müller doesn't play well.' It's stressful, but I love it. When you've been in the industry for a long time, you get a little addicted to that pressure and it's hard to find something after your career that gives you the same adrenaline pumping. But what is that supposed to be? Flying mountains and jumping out of a helicopter on skis? I don't know. "


[ source link ]
https://www.sport1.de/fussball/bundesliga/2021/03/thomas-mueller-werde-zu-sehr-als-mythos-gesehen

year Bayern years