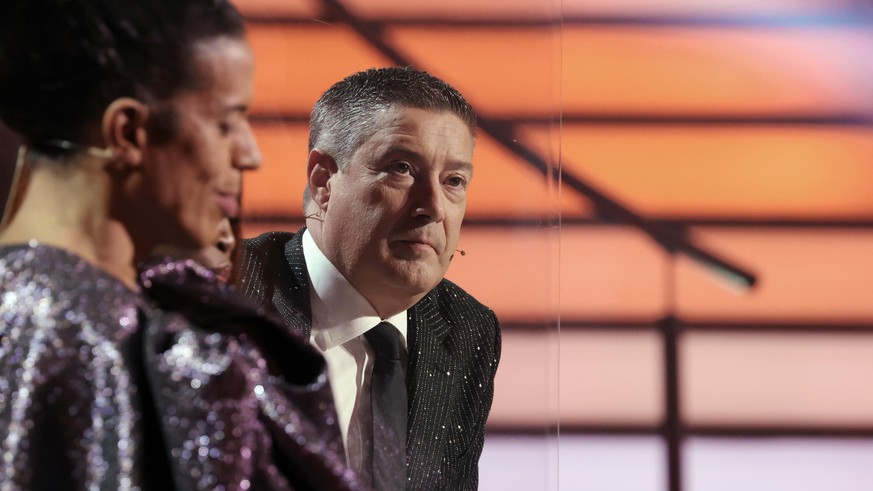 Joachim Llambi didn't leave "Let's Dance" candidate Erol Sander bad. Bild: Getty Images Europe / Andreas Rentz
"Let's Dance" candidate gets jury slap – Llambi even steps in again
Erol Sander had to take a beating in today's "Let's Dance" edition. And just one lousy criticism was obviously not enough for the chief juror Joachim Llambi. In episode four of the RTL show, the actor and professional dancer Marta Arndt danced a rumba to "Te Busco" by Celia Cruz. Actually a song that the 52-year-old likes and that arouses emotions in him: In the one-player to the dance, Erol revealed that the song always makes him cry.
But when it was their turn and started with the rumba, the promised emotions were not there – Erol moved too little, Marta alone made sure that the dance got its characteristics. In the subsequent judges' evaluation, Jorge González and Motsi Mabuse were also dissatisfied, but traditionally expressed this a little more flowery than the strict Llambi. For example, Motsi advised Erol: "Marta is the best in the world, if you imitate just a little, you'll get there."
Joachim Llambi grilled Erol Sander in his jury review
When it was Llambi's turn, it got very technical at first: "At the beginning you stood there, the weight certainly not in front. You have such a top figure for your age and then I thought like this: 'Man, Erol has a stomach', although you probably don't have one at all", he commented on the attitude of the "crime scene" actor. But that's not all:
Again, the professional dancer was the only reason why he didn't actually doze off: "Thank God Marta was there, who was whizzing like a whirlwind. That was not varied enough. It splashed to itself. But I want to see light and shadow, I want to see an interplay between you and Marta. And then there were a few technical difficulties ", Llambi continued his tough criticism.
The show veteran finally combined the final conclusion with an urgent warning: "It definitely has to get better in other shows and dances." That sat. When awarding points, Jorge gave six points. Llambi commented again: "Oh, this will be less" and finally smugly held up his three-point ladle.
Erol Sander and Marta Arndt couldn't convince with their rumba. Bild: Getty Images Europe / Joshua Sammer
One Llambi criticism was not enough, however
Normally, the celebrities always have to breathe a sigh of relief, the dance has gone on, the points have been awarded and in the end the calls from the audience decide whether the candidate is allowed to continue dancing or not. But Erol shouldn't have gotten all the swipes for his rumba yet.
After him it was the turn of the ESC singer Ilse DeLange and the dancer Evgeny Vinokurov with a Charleston – the performance of the two was much better. As a result, Llambi let himself be carried away again to make a nasty remark in the direction of Sander. He said to Ilse after the performance:
Apparently, moderator Daniel Hartwich did not find it particularly nice either and remarked: "It's also great that you mentioned again about falling asleep, Erol is sure to be delighted. Put the French fork into the wound again." Llambi was not deterred by this and did not take back the statement, but left everything exactly as it is. For his part, Sander did not have a say and had to accept the assessment.
Oana Nechiti and Erich Klann have also danced with "Let's Dance" as professional dancers. Bild: Getty Images Europe / Andreas Rentz
Other professional dancers criticize Erol Sander on "Let's Dance"
But not only from the juror there were bitterly angry remarks: In their podcast "Dance or not at all", the professional dancers Oana Nechiti and Erich Klann also talked about the actor and his dance partner. Oana and Erich were also part of the show for years, but Erich has ended his "Let's Dance" career, and Oana has not danced since 2018 either. Erich stated about Erol and Marta after the third show:
"With Marta, I didn't have the feeling that she was in the mood at all. We know both of them, she doesn't feel like Erol at all. I see that. You women, you have to deal with the men. And that's a different role than the ones we take on as professional dancers. It's just different. For example, when I say something to a woman, I have the feeling that she is listening too. But I think that Erol may not trust her that much. "
Oana also had the feeling that Erol Marta wasn't listening and that the dancer couldn't get involved with her protégé: "Alone when I see the two of them together. I don't know why, but as you said, somehow she doesn't feel like him at all, he has … I don't know what he wants."
It remains to be seen whether Erol will make it into the next round with all the criticism. With Kai Ebel, Mickie Krause and Jan Hofer, there are at least male celebrities who also had some teething problems.
(cfl)


[ source link ]
https://www.watson.de/unterhaltung/tv/157734864-let-s-dance-kandidat-bekommt-vernichtende-kritik-juror-tritt-nochmal-nach

Lets Dance candidate receives scathing criticism juror rejoins