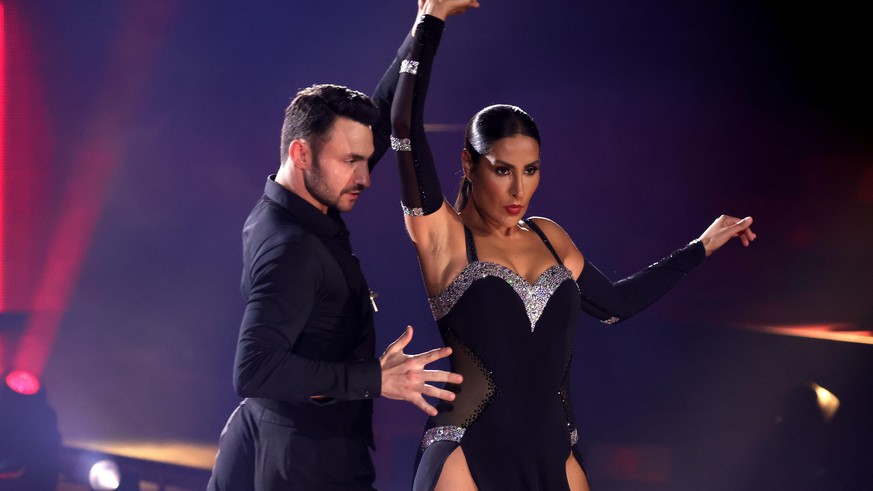 Robert Beitsch and Senna Gammour gave everything in episode two of "Let's Dance". Bild: Getty Images Europe / Andreas Rentz
Doesn't feel welcome: "Let's Dance" candidate Senna Gammour cannot shake off "difficult" image
Senna Gammour had a hard time with "Let's Dance", since the now 14th season had not even started with her as a candidate. The reason: Oliver Pocher made public in an Instagram post at the end of January that the former Monrose singer had secretly gone on vacation to Dubai and actually wanted to keep the trip secret.
In the aftermath of numerous hate messages, she was forced to comment on the Dubai trip. But after that the hate didn't decrease on social media, on the contrary: The users demanded that Senna's "Let's Dance" invitation should be withdrawn. After all, everyone in this country is stuck in lockdown, while the author was exposed to an increased risk of infection due to the vacation.
"If it were the case that I should be kicked out of 'Let's Dance' because of my trip to Dubai, then so many people at RTL who have faces would have to be kicked out., Senna had fought and fought on Instagram.
Oliver Pocher uncovered Senna's trip to Dubai in January on Instagram. Image: www.imago-images.de / Jan Huebner / Lakomski
After all, the show was not to be excluded, on February 26th, the Frankfurt resident started as planned, did a first group dance and was finally assigned the dance professional Robert Beitsch. This also included an assessment by the dreaded chief juror Joachim Llambi, who did not mince words after Senna's dance, which was in need of improvement, in episode one. He teased nastily that he was worried when he saw Senna's name on the list of participants. "I kiss your heart," the candidate forced a diplomatic response.
After the network hate for Senna, there was a nasty "Let's Dance" jury verdict
The 41-year-old had obviously not taken the slogan that cool. After the show, Senna said in an interview with RTL that she didn't feel welcome after Llambi's comment on "Let's Dance". Now, in episode two, when asked about Llambi, she said that you don't have to handle her with kid gloves, but:
Moderators try to save Senna
This time there was a milder, more constructive judgment from Llambi to Senna that she had improved her dancing skills. The moderators Daniel Hartwich and Victoria Swarovski tried everything for their part to make Senna feel comfortable and welcome in the show. First Daniel assured after Senna's dance: "It's really great that you're with us." Victoria then emphasized: "You are more than welcome with us. That hit me very much when I heard about it."
The viewers on Twitter found this announcement to be quite tense – the pity for Senna was limited:
Senna's tears flowed during training
In the training for episode two, Senna even shed tears – because her dance partner complimented her. Beitsch was happy in the interview: "I'm so happy that I can dance with her."
To make matters worse, after show number two there were no important calls from the audience, the dancing couple had to tremble to get ahead. Despite the lack of audience support, it worked again this time – she and Robert made it one round. Instead, the DSDS singer Vanessa Neigert had to say goodbye.
All of this seems to show that so shortly before Senna's "Let's Dance" participation, Oliver Pocher managed to spoil the show in a certain way. The comedian himself did not request her show disqualification, but when he disses influencers and network stars, the situation becomes independent in many cases – and he knows it. The critical Joachim Llambi also seems to focus on the cracked external image of Senna.
So it remains exciting whether Senna will rehabilitate herself on the show and whether she can withstand the pressure from outside and from the judges.
(cfl)


[ source link ]
https://www.watson.de/unterhaltung/tv/927318050-let-s-dance-kandidatin-senna-gammour-fuehlt-sich-in-show-nicht-willkommen

Lets Dance Candidate Senna Gammour doesnt feel show