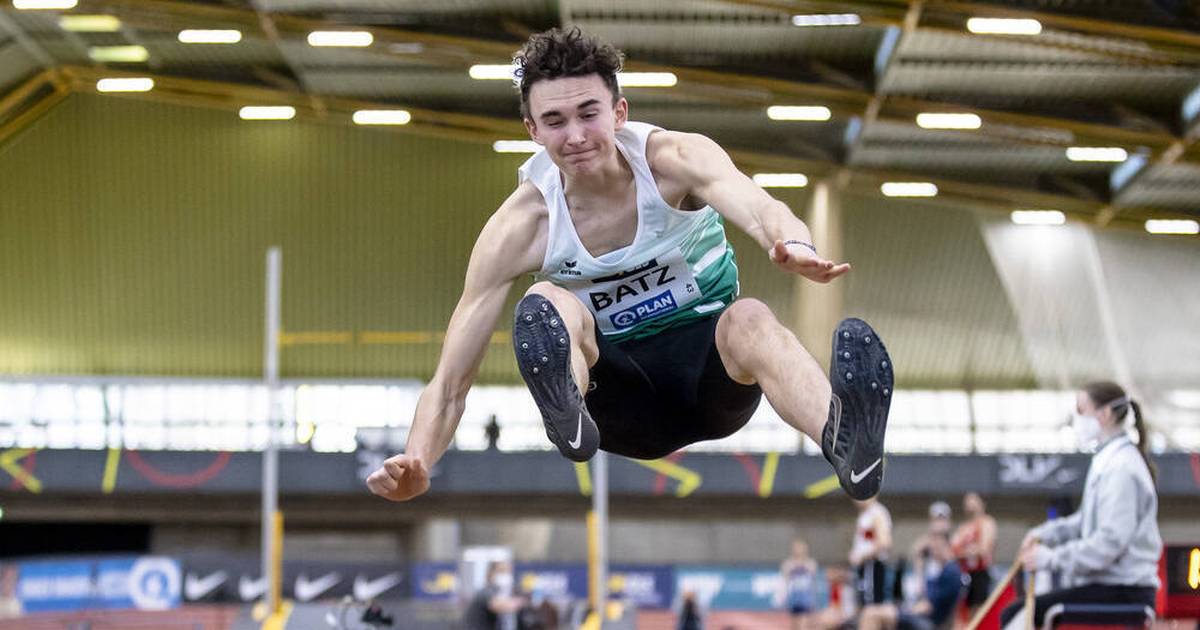 When Simon Batz looked at the scoreboard, he could hardly believe his luck.
7.73 meters were displayed – not only did he improve his record by ten centimeters, but also came in sensationally second behind Maximilian Entholzner (7.85 meters) at the Indoor Championships in Dortmund a month ago.
Test DAZN for free and experience sports highlights live & on demand | DISPLAY
"I didn't expect that everything would work so well," says Batz SPORT1. "I went into the competition without any expectations and just wanted to be among the top eight. That I became runner-up is the ultimate thing."
The special thing about Batz's performance is not so much the size as such, but rather the circumstances that led to it. At the age of 18, the athlete who started for Sportfreunde Essing in Niederbayern is still at the beginning of his career – literally.
The amazing thing is that Batz has only been practicing the long jump under professional conditions for a few months. "We only really started the training plan this winter," says the teenager. "Only then did things slowly move in the direction of five training units a week."
Simon Batz: There used to be only football
Up to the age of 16 he did what most of his buddies did: He kicked for his hometown club in Offendorf and did not worry about spikes, inrun and long jump pit. "I used to only have football until I switched to athletics two and a half years ago," he reveals.
As a child, he noticed that he was born with an extraordinary talent when jumping, but he never had the idea of ​​turning towards athletics earlier – and he still does not regret it today.
"Many athletes who started earlier have lost their enthusiasm at the age of 18," says the tall student. "That's not the case with me at all, I still learn a lot of new things and I have a lot of fun."
A turning point in his career was the move to Essing to his current coaches Jörg Nowy and Günter Bachhuber in autumn 2018. The two experienced coaches recognized Batz's great talent, although his jumping style was anything but mature at the time.
Rapid increases in a short time
At 6.60 meters, the youngster was still far from the national top, but the new coaching duo quickly made for breathtaking increases. "When I switched to my current club, it went up quickly," he says.
Indeed, in a short period of time, one of the achievements exploded. In the summer of 2020, Batz was already jumping constant distances between 7.30 and 7.40 meters, confirming his coaches' prediction.
"After the first six months of training, I would have expected an increase to 7.5 meters within two years to be realistic," explains Nowy at SPORT1. "That he now stands at 7.73 meters is of course all the more gratifying."
For Nowy, who has mainly dealt with high jumpers in his coaching career, the facilities of his protégé are new territory. "I have to say very clearly that I haven't had an athlete like this with these performance boosts," he enthuses. "Simon's talent was immediately apparent. From the first running and jumping exercises, it was clear to me that he had great potential in athletics."
The development at Batz is still in its infancy – especially when it comes to speed. "As a long jumper I am relatively slow, and in terms of my distance I am probably by far the slowest of the competition," explains Batz. "However, thanks to my size, I can make the jump relatively well."
Olympic medal "just a dream at first"
But before working on its start-up speed in the medium term, something completely different has priority at Upper Bavaria: its school leaving examination
"Tokyo doesn't play a role in my head," he said when asked about the Olympics in the summer. "I'm doing my Abitur this year, that's why I'll finish school first and only start later in the summer season. My goal is the European and World Youth Championships."
And for the time after that, it should continue step by step, as Nowy explains. "We don't want to burn up the athlete and thereby endanger his potential. Simon must also have the will and the motivation, which I am convinced he has, then he can still achieve a lot."
The next goal of the high-flyer: "The 8 in front of the decimal point is what I have planned for the next year or two" – an Olympic medal, on the other hand, is just a dream at first. "You may not be able to answer that for a few years."
It will be interesting to see what dimensions Simon Batz will jump into in the future. If you see the sensational runner-up from Dortmund cheering more often in the future, you shouldn't be too surprised.


[ source link ]
https://www.sport1.de/leichtathletik/2021/03/leichtathletik-weitspringer-simon-batz-ueber-seine-steigerung-und-olympia

Long jumper Simon Batz improvement Olympics