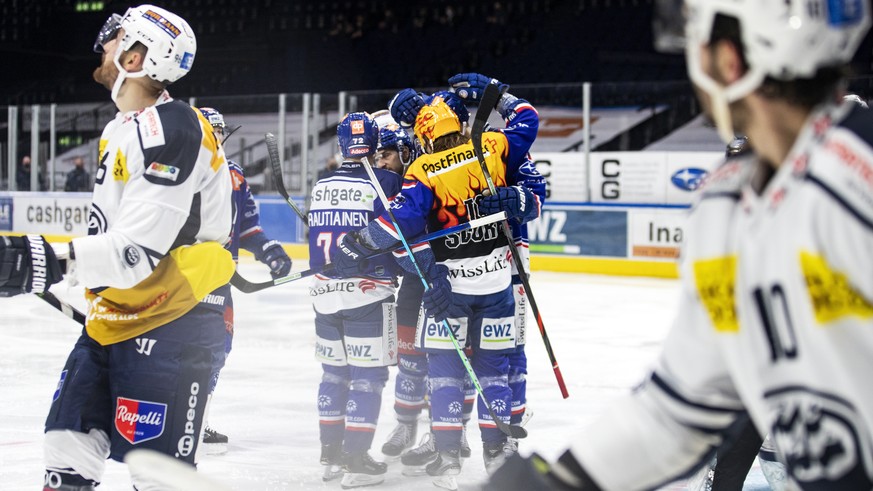 Now it's fixed: For Ambri, the season after the regular season is over. Image: keystone
ZSC finally throws Ambri out of the playoff race – Lugano's winning streak torn
With three rounds to go, all ten playoff participants have already been determined. Ambri-Piotta would have had to win all of the last games to be able to overtake the Rapperswil-Jona Lakers. But the Ticino lost to the ZSC Lions 2: 4.
ZSC Lions – Ambri 4:2
The ZSC Lions played their way out of the home crisis with a 4-2 win over Ambri-Piotta. The Zurich team dominated the game, but had to fear for victory until the end because of two goals they conceded within 112 seconds.
Roman Wick scored the goal of the evening in the 36th minute. The former goal getter only scored his first goal of the season on the fourth from last matchday (or in his 44th game of the season). Wick has never had to plan to score for so long. He set his previous personal minus record 17 years ago when he only scored in the 18th game for the first time.
Raphael Prassl secured the 4-2 victory with a power play goal in the 41st minute. Ambri, that should have won, could not make the turn any more.
The ZSC Lions hope to have found their way out of the crisis with their first win of the season over Ambri. From the last eleven games, the Zurich had only got seven points. And only one win resulted from the last nine home games – against the SCL Tigers (5: 2).
Roman Wick: "I was actually sure that it wasn't a goal." Video: YouTube/MySports
ZSC Lions – Ambri-Piotta 4: 2 (2: 2, 1: 0, 1: 0)
1 viewer. – SR Lemelin / Piechaczek, Kehrli / Burgy.
Tore: 1. (0:54) Krüger (Hollenstein, Marti) 1-0. 8. Bodenmann (Krüger, Lasch) 2-0. 15. Perlini (Fora / Powerplaytor) 2: 1. 17. Fora (Perlini / Powerplaytor) 2: 2. 36. Wick 3: 2. 41. (40:54) Prassl (Andrighetto, Rautiainen / Powerplaytor) 4: 2.
Punish: 4 times 2 minutes against ZSC Lions, 7 times 2 minutes against Ambri-Piotta.
PostFinance top scorer: Andrighetto; Zwerger.
ZSC Lions: Waeber; Noreau, Marti; Phil Baltisberger, Geering; Trutmann, Berni; Capaul, Noah Meier; Prassl, Roe, Andrighetto; Bodenmann, Kruger, Hollenstein; Lasch, Sigrist, Rautiainen; Riedi, Diem, Wick.
Ambri-Piotta: Ciaccio; Outside, Isacco Dotti; Hächler, Fischer; Ngoy, Zaccheo Dotti; Pezzullo; Nättinen, Flynn, Perlini; Zwerger, Kostner, Müller; Grassi, Novotny, Mazzolini; Trisconi, Dal Pian, Kneubuehler; Cajka.
Remarks: ZSC Lions without Chris Baltisberger, Blindenbacher, Flüeler, Morant, Pedretti, Pettersson (all injured) and Schäppi (sick). Ambri-Piotta from 58:37 without a goalkeeper.
Roman Wick scores his first goal of the season against Ambri. Image: keystone
Zug – Davos 4: 2
The EV Zug continued to approach the all-time high point record in the National League. The Zugers won the home game against Davos after a 1: 2 deficit until the 50th minute with 4: 2. Carl Klingberg scored the goals for 2: 2 and 4: 2.
The Zugers equaled HC Davos' record from the 2011 season (113 points from 50 games) after just 49 games. In order to avoid discussions about the best mark, the Zugers still need four or seven points over Easter – depending on whether the game on Easter Monday at home against Biel can still take place at the end of the qualification.
For the Davos, who are still competing against the ZSC Lions (h) and Ambri-Piotta (a), it will be extremely difficult to reach the quarter-finals early after this defeat.
Fabrice Herzog: "We're looking at the pre-playoffs first." Video: YouTube/MySports
Zug – Davos 4: 2 (0: 0, 1: 1, 3: 1)
0 viewers. – SR Urban / Kristijan Nikolic, Schlegel / Wolf.
Tore: 23. Abdelkader (Martschini) 1-0. 30. Duke 1: 1. 48. Marc Wieser (Ambühl, Corvi) 1: 2. 50. Klingberg (Zehnder, Kovar) 2: 2. 57 Senteler (Stadler, Abdelkader) 3: 2. 59. Klingberg 4: 2.
Punish: 2 times 2 minutes against Zug, 4 times 2 minutes against Davos.
PostFinance top scorer: Kovar; Corvi.
Zug: Genoni; Smurf, Geisser; Diaz, Stadler; Cadonau, Gross; Zgraggen; Simion, Kovar, Thorell; Klingberg, Albrecht, Zehnder; Marchini, Senteler, Abdelkader; Leuenberger, Bachofner; Langenegger.
Davos: Mayer; Nygren, Jung; Heinen, Guerra; Stoop, Barandun; Ritzmann, Hänggi; Frehner, Egli, Herzog; Palushaj, Ullström, Turunen; Ambühl, Corvi, Marc Wieser; Marc Aeschlimann, Baumgartner, Canova.
Remarks: Train without Hofmann, Thürkauf, Wüthrich (all injured), Alatalo (sick) and Shore (surplus foreigners), Davos without Du Bois, Kienzle, Valentin Nussbaumer, Paschoud, Rubanik, Dino Wieser (all injured) and Sund (surplus foreigners). Davos from 57:58 to 58:46 without a goalkeeper.
The EVZ did not dance out the HCD, but still won in the end. Image: keystone
Lugano – Lausanne 1: 3
HC Lugano loses 1: 3 against Lausanne and has to give the Vaudois the second place again. It is Lugano's first defeat after eight straight wins.
On the penultimate day of March, the Bianconeri had neither the punch nor the cold-bloodedness and certainly not the luck that made them the most successful team of the month. Almost symbolic of the decisive 1: 3 in the penultimate minute of the middle third: defender Alessandro Chiesa broke the stick as the rearmost player, Christoph Bertschy did not allow himself to be asked twice and scored his 21st goal of the season.
However, the Lausanne team earned their luck with a much more committed appearance than the dull Ticino. The 1-0 lead by Raphael Herburger was happy, but the South Ticino really got astray with penalties in the middle third. Lausanne was unsuccessful in the power play, but Tim Bozon (27th) and Cody Almond (34th) scored from 0-1 to 2-1 shortly after the penalties had expired.
In the final third, Lugano did not come close to the turning point. In the extremely close race for the place of honor behind qualifying winner Zug, Lausanne (new 2nd) and Lugano (4th) swapped places.
Lugano – Lausanne 1: 3 (1: 0, 0: 3, 0: 0)
0 viewers. – SR Salonen / Nikolic, Obwegeser / Progin.
Tore: 13. Herburger (Wolf, Lammer) 1:0. 27. Bozon (Almond, Frick) 1:1. 34. Almond (Bozon, Krakauskas) 1:2. 39. Bertschy 1:3.
Punish: 4 times 2 plus 10 minutes (Boedker) against Lugano, 3 times 2 minutes against Lausanne.
PostFinance top scorer: Arcobello; Malgin.
Lugano: Schlegel; Heed, Wellinger; Loeffel, Church; Nodari, Wolf; Walker, Antonietti; Bürgler, Arcobello, Bödker; Fazzini, Morini, Suri; Lammer, Herburger, Josephs; Zangger, Sannitz, Haussener.
Lausanne: Boltshauser; Grossmann, Barberio; Heldner, Frick; Krueger, Genazzi; Schneeberger, Krakauskas; Jooris, Malgin, Almond; Bozon, Gibbons, Hudon; Bertschy, Emmerton, Kenins; Jäger, Froidevaux, Douay.
Remarks: Lugano without Bertaggia, Lajunen, Riva, Traber and Zurkirchen (all injured). Lugano from 56:58 to 58:40 and from 59:22 without goalkeepers.
Friborg – Langnau 6: 2
HC Friborg-Gottéron kept their chance of second place in the qualification with a 6-2 win over the SCL Tigers without discussion. The game was shaped and decided by Freiburg's captain Julien Sprunger. The 35-year-old scored the first three goals for Freiburg in the first 23 minutes.
For Sprunger it was already the ninth hat trick in the National League. A fourth goal – like eight years ago in the 7-3 victory over Ambri-Piotta – Sprunger no longer succeeded.
At the SCL Tigers there was a sweeping mood. The Emmentaler stopped the resistance early; In addition, they favored the Freiburg assault with many penalties in the second section. Chris DiDomenico, a year ago still a cult striker in Langnau, scored the 4-0. Gottéron won all four games against Langnau this season.
Julien Sprunger: "We are now in the top 6, our goal has been achieved." Video: YouTube/MySports
Friborg-Gottéron – SCL Tigers 6: 2 (2: 0, 4: 1, 0: 1)
1 spectator. – SR Hebeisen / Fluri, Gnemmi / Steenstra.
Tore: 11. Sprunger (Bykow, Walser) 1-0. 17. Sprunger (Walser) 2-0. 23. Sprunger (Gunderson, Mottet / Powerplaytor) 3: 0. 33. DiDomenico (Gunderson, Desharnais / Powerplaytor) 4: 0. 37.Dostoinov (Erni) 4: 1. 39. (38:51) Marchon (Gentlemen, DiDomenico) 5: 1. 40. (39:36) Bykow (Walser, Abplanalp) 6: 1. 59. Erni (Huguenin) 6: 2.
Punish: 4 times 2 minutes against Friborg-Gottéron, 6 times 2 minutes against SCL Tigers.
PostFinance top scorer: Moths; Maxwell, Friborg-Gottéron: Berra; Gunderson, Chavaillaz; Sutter, Furrer; Kamerzin, Jecker; Abplanalp; Herren, Schmid, DiDomenico; Sprunger, Walser, Bykow; Bougro, Marchon, Jobin; Jörg, Desharnais, Mottet.
SCL Tigers: Punnenovs (41st Zaetta); Glauser, Leeger; Erni, Huguenin; Lardi, Grossniklaus; Blaser, Bircher; Berger, Maxwell, Neukom; Julian Schmutz, Flavio Schmutz, Sturny; Andersons, Weibel, Dostoinov; Petrini, In-Albon, Wenger.
Remarks: Friborg-Gottéron without Brodin, Rossi and Stalberg (all injured), SCL Tigers without Diem, Earl, Kuonen, Nilsson, Rüegsegger, Salzgeber, Schilt (all injured) and Melnalksnis (sick). (pre / sda)
Julien Sprunger scores his 9th professional hat trick against the Tigers. Image: keystone
The current table
THANK YOU FOR THE ♥
Would you like to support watson and journalism? Learn more
(You will be redirected to complete the payment)
HCD, SCB, ZSC and? These clubs have already become Swiss hockey champions
Things hockey fans would never say
You might also be interested in:
Subscribe to our newsletter


[ source link ]
https://www.watson.ch/sport/eishockey/275305365-national-league-zsc-lions-werfen-ambri-endgueltig-aus-dem-playoff-rennen

National League ZSC Lions finally throw Ambri playoff race