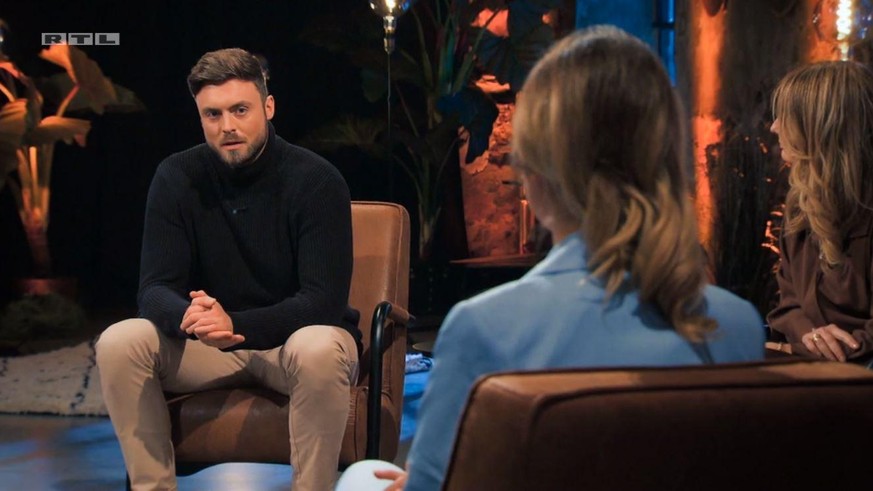 Bachelor Niko met retired candidates in "After the Last Rose". Image: screenshot tvnow
Bachelor Niko is rueful: "Completely and rightly angry with me"
The final of "The Bachelor" turned out differently than expected. Shortly before the last rose award, Niko Griesert exchanged one of the finalists. In the end, Mimi and Michèle were in the final. The last rose, however, went to Mimi. What became of the two after filming, RTL reveals on Wednesday evening in "The Bachelor – After the Last Rose". The episode was previously available on TVNow.
So if you don't want to know what's happening yet, don't read any further now. Warning, spoilers!
"Bachelor" -Niko is remorseful
In a talk with Frauke Ludowig, Mimi and Niko explained that they are no longer a couple, or rather that they never became one. Mimi explained that she noticed immediately after the final that something was wrong. She regretted that they didn't have a chance to get to know each other in real life.
On the show, Niko also spoke about the Michèle return campaign and was remorseful. After all, by doing so, he had also broken his contract. Because contacting retired candidates while filming is still going on is certainly not to RTL's taste. Niko explained:
It didn't help Michèle in the end, after all, Niko decided against her in the final. It goes without saying that her emotions boiled up in the talk group and many tears flowed. "Of course I developed feelings, there is no question about that. Yes, I thought he was great"she openly admitted to the presenter. And she admitted that she had counted on the last rose. That's why she was "a bit disappointed in myself, because I actually knew from the start that Mimi would be".
In view of this back and forth, even the winner Mimi feels sorry for her competitor Michèle. "I'm incredibly sorry for her," says Mimi at "rtl.de" and even goes one step further: "Especially because now I think to myself: I think he would have preferred to give you the last rose." That's an announcement!
Tears for "Bachelor" -Stephie
But not only at Michèle the reunion tore old wounds, it was also tough for Stephie, who was replaced in the final. She also shed a few tears when she looked back on scenes with Niko.
She looked sadly at the monitor when RTL recorded the two most beautiful moments. It was immediately apparent that the whole thing still affects her. Meanwhile, Niko kept looking over at her ashamed.
Looking back, you could see Stephie's sadness. Image: screenshot tvnow
Of course, Frauke Ludowig also spoke to the original finalist about the moment when she was replaced by Niko. "I can understand, of course, if you want to listen to your heart at this moment, but I would have probably just wished for a different explanation," said Stephie and revealed that at first it felt as if he had only insisted on her Final chosen so that in the end it doesn't feel so difficult to choose Mimi.
Bachelor Niko did not want to disappoint Stephie
Niko didn't want to leave it like that. He tried again to explain his decision. But for Stephie this should not have been very satisfactory either. After the semifinals, he simply noticed that he wanted to see Michèle again, but that there could only be two women in the final, explained Niko. "I can completely understand if you say that that is not enough for you or say that it was not good of you"the Bachelor continues.
But there was another thing that bothered Stephie: the fact that Niko had claimed that the preliminary election in her favor was a brainstorm. She couldn't understand that. At this point, Niko had to admit that the words were probably not well chosen. Basically, every choice was a heart decision, he protested.
The rumors that Niko and Michèle are now a couple were not addressed in the reunion show. Instead, the broadcaster wants to resolve the situation only after the TV broadcast.
(if)


[ source link ]
https://www.watson.de/unterhaltung/tv/495555889-niko-griesert-voller-reue-bachelor-siegerin-mit-klaren-worten-beim-wiedersehen

Niko Griesert full regrets Bachelor winner clear words meet