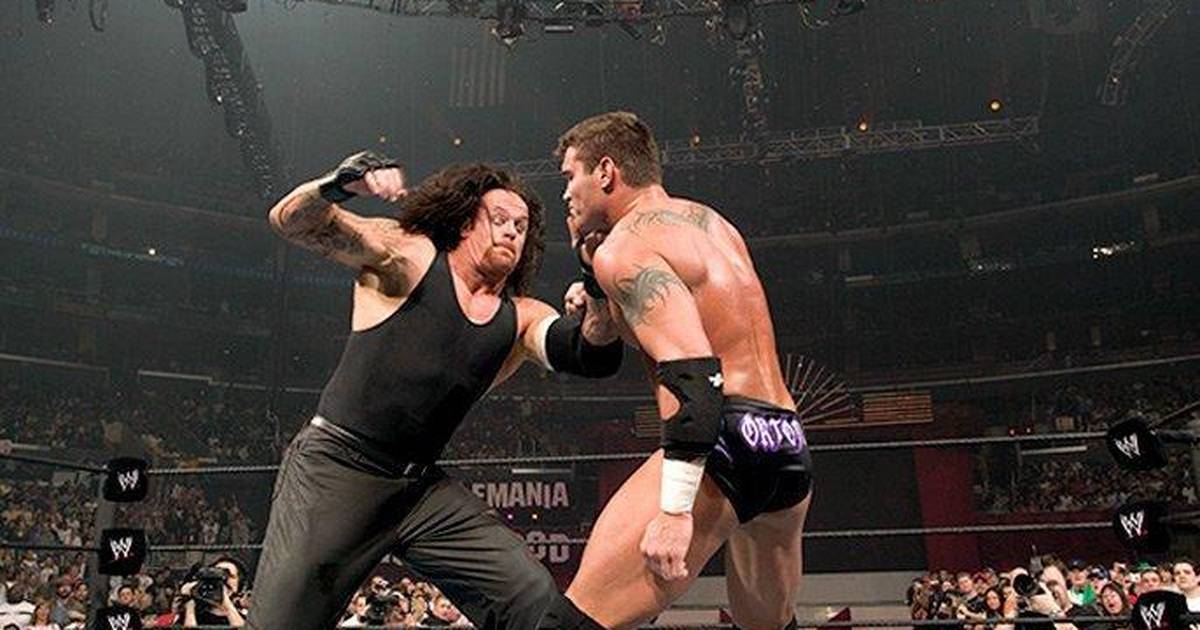 Opinions of WWE fans differ on his current feud against the horror character The Fiend and Alexa Bliss – but almost everyone agrees that Randy Orton is currently at the high point of his almost 20-year career at the wrestling market leader.
The man who is also known as "Legend Killer" and "The Viper" has now been WWE and World Champion 14 times. In his last reign last year he reached a new level in his role as arch villain, especially at the microphone.
The 40-year-old has by no means all had good times. In his first WWE years he had a reputation as a scandal wrestler – and not without reason: In the current edition of the "Broken Skull Sessions" by WWE legend Stone Cold Steve Austin he talked about this time and expressed particular regrets expressed a low point that he had only revealed some time ago.
Missed an important appointment with Undertaker after the party night
Shortly before one of his most famous fights – the match against Undertaker at WrestleMania 21 in 2005 – Orton had drunk the night and therefore missed the trial run for the fight.
"I went through the night with a couple of young guys, so I didn't go to rehearsal on Saturday morning at 9 a.m.," Orton recalled on the talk show on the WWE Network.
He described the moment when he arrived at the training ring much too late and met the other participants: the taker, his father "cowboy" Bob Orton, referee Mike Chioda and the producers and ex-wrestlers Ricky Steamboat and Johnny Ace (from whom he had also taken over the RKO campaign). They all left him standing without a word, but the disappointment on their faces still makes him embarrassed today.
Test DAZN for free and experience WWE RAW and SmackDown live & on demand | DISPLAY
One reason why Orton regrets his behavior even more: "That same night I introduced my father to the Hall of Fame. There, too, I talked for two minutes without preparation. He deserved better." Randy Orton is a third generation wrestler: Grandfather Bob Orton Sr. was just as much a show fighter as father Bob Jr. and his uncle Barry, who died last Friday.
Randy Orton "self-destructed" between 2005 and 2007
The WrestleMania weekend and his collaboration with Undertaker at the time was a chapter in his life story that he would like to change if the opportunity arises, said Randy Orton in an interview with Austin – one of several.
"2005 was the beginning of my self-destruction, which lasted until 2007," recalls Orton. During these years, the then young star wrote numerous negative headlines and was suspended several times, among other things for doping violations, but also for other annoyances.
There were reports of a Playboy life that was taken too far, attitude problems, bullying by colleagues and other scandal – among other things, he is said to have devastated a Munich hotel room on a tour of Germany.
Mysterious "dark" incident surrounding WrestleMania 2006
In the context of WrestleMania 22 in 2006 – when Orton lost one of the main fights against Kurt Angle and Rey Mysterio, who was promoted to World Champion at the time – there was another incident, which resulted in a 60-day ban and a compulsory seminar for "Anger Management "(Control of anger) brought in. The insider medium Wrestling Observer wrote at the time of a "very shameless violation of a very well-known company policy".
What happened then? Orton doesn't want to talk about that to this day. "There is no family-friendly version," he said when Austin asked, what happened at the time was "dark, dark, dark".
He would have needed "help" back then, would have received it, but was "still not right" afterwards. It wasn't until mid-2007, when he formed the "Rated-RKO" tag team with Edge and had his big feud with John Cena, "I got out of the dirt".
Orton: Lucky not to have been fired
Orton frankly admits today that he was favored by a lot of benevolence from WWE executives. He couldn't have blamed the doctorate for getting fired.
That year Orton started a family and married his first wife Samantha. The father of two has been married to his wife Kimberly since 2015 – and stressed several times on the Austin show that he is now "a happy man" both privately and professionally.


[ source link ]
https://www.sport1.de/kampfsport/wrestling/2021/03/wwe-randy-orton-beichtet-peinlichen-wrestlemania-tiefpunkt

Randy Orton confesses WrestleManias embarrassing point