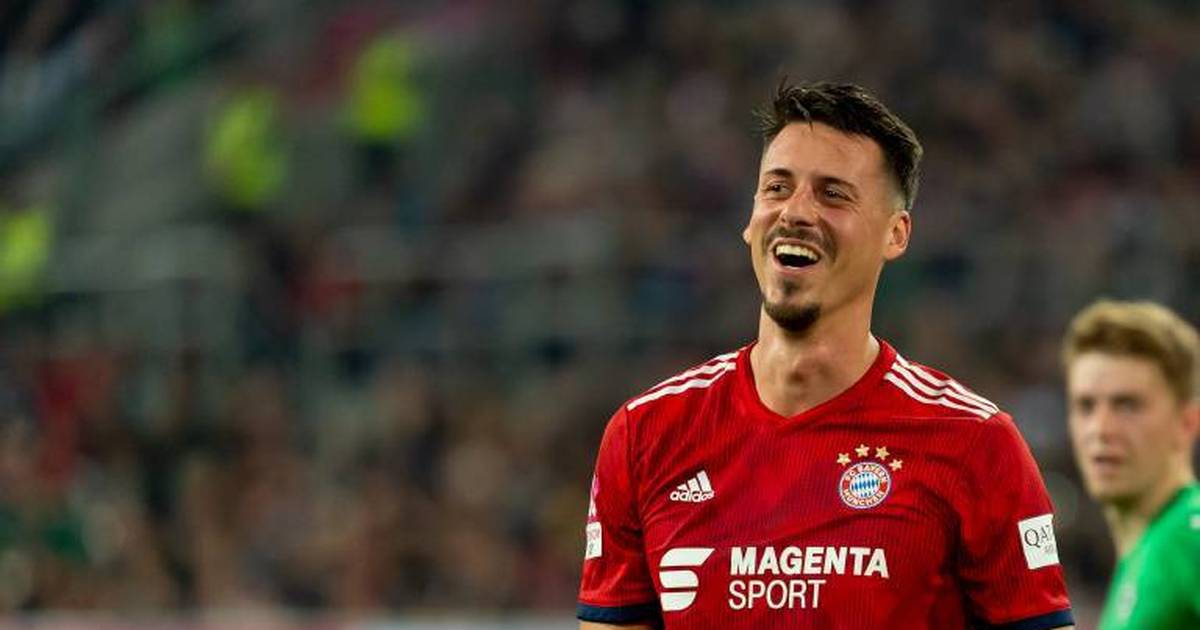 Sandro Wagner has seen a lot in his career.
The former striker came to Bayern Munich as a youth in 1995, stayed there until 2008 – and returned triumphantly in 2018 after six intermediate stops.
"If the career is a tunnel, then I came into the light. It was awesome," said Wagner in the FC Bayern Podcast on his return in 2018.
Trial training! Wagner shot Bavaria
Wagner still remembers at least parts of his first visit to Säbener Strasse.
"I was with the big FC Hertha München at an indoor tournament against Bayern in Milbertshofen. We won 2-0, which was really good for such a small team," said the 33-year-old today: "I scored two goals and was then invited to a trial training session. "
At that time, according to Wagner, "there was still an artificial turf, eight to ten teams trained on it. Hermann Hummels was a scout and youth coordinator at the time. That was my first training session, my grandma drove me here."
Hummels supported Wagner
He was "very nervous" because "FC Bayern had been a huge thing from childhood, everyone was proud."
Hermann Hummels, father of Mats Hummels, was a great supporter. "One of the few in my youth who really believed in me," reports Wagner: "He believed in me even in difficult times and was an important contact person."
The Bundesliga highlights on Sunday from 9.30 a.m. in Bundesliga Pur on TV on SPORT1
Playing with the professionals for the first time later was "an unbelievable feeling" and a "huge confirmation", but also "strange". "That made me really proud. I was so happy," said Wagner about his first training sessions.
Wagner on Bayern return: "That was awesome"
Although he celebrated his Bundesliga debut at Bayern on August 11, 2007 – as a joker for Miroslav Klose – he then had to admit that his level was not really enough for Bayern.
"I noticed that I couldn't get any further here. I didn't have the quality to become a professional here straight away," admitted Wagner. In terms of sport, the step was the right one, but from a human point of view it was "brutally difficult. I missed Munich brutally".
The CHECK24 double pass on Sunday from 11 a.m. on TV on SPORT1
The following stations were called Duisburg, Bremen, Kaiserslautern, Hertha BSC, Darmstadt and Hoffenheim, before the step "back into the light" followed in 2018: "I was where I wanted to go again."
He was "incredibly proud" that he had made it back to Munich: "That was awesome."
Wagner raves about Lewandowski and Heynckes
During this time, Wagner acted as a backup for Robert Lewandowski. "Everything happened as discussed," said the ex-international: "Jupp Heynckes moderated it phenomenally."
He "took away so much from the coaching legend, especially in the dressing room when dealing with people. In a management position, it is important that you have a good level to moderate and manage everything. At Heynckes, that's how I do it learned well. "
He also "got on really well with Lewandowski. He's also totally relaxed as a person." Wagner's qualities impressed him: "I sometimes looked over with wide eyes. It's a completely different world from me to him."
When asked about the best trash talker, Wagner decided in favor of Joshua Kimmich: "He's doing very well on the field. He's going ahead and also stands up to his opponents."
His funniest teammate was Javi Martínez: "He was crazy. A very, very funny contemporary – also in his private life."
Wagner decided not to return to Bayern again
After his detour to Tianjin Teda in China in the 2019/2020 season, the attacker finally ended his active career – and decided against returning to Bayern.
Because a move to Bayern II "was an issue," revealed Wagner: "I talked to Jochen Sauer and Holger Seitz. That would have been an option." However, it "felt good for me to quit. And I can only do all of it or not at all – that would have been just something in between."
Test DAZN for free and experience the Bundesliga on demand | DISPLAY
He looked at how other careers end and didn't want "my image to crumble a bit. I got out high, achieved everything I wanted to achieve, turned on the Turbo Boost again towards the end. I didn't want to do something in the middle. "
He added: "If it had burned for the second team, I would have done it too. But they became champions. If it had burned, my Bayern heart would have said again: Come on, I'll help again. The situation was but then not necessary. "
Wagner wants to be a "very good trainer"
Now Wagner, who is currently an expert at DAZN works, "become a very good coach" and "eventually knock on top".
Wagner explains: "I am very good at leading people, have fun tactically and am tactically innovative." He brings "good attributes" and "much more" for a coaching career than for his playing career.
Wagner would paint his Schnauzer red and white for one day, "if, as a Bayern coach, I achieve something at some point – whether youth or professional". If he had to live in a tiny house with a Bayern player, he would choose Joshua Kimmich: "I just like him".


[ source link ]
https://www.sport1.de/fussball/bundesliga/2021/03/fc-bayern-sandro-wagner-berichtet-von-seiner-zeit-in-muenchen

Sandro Wagner reports time Munich