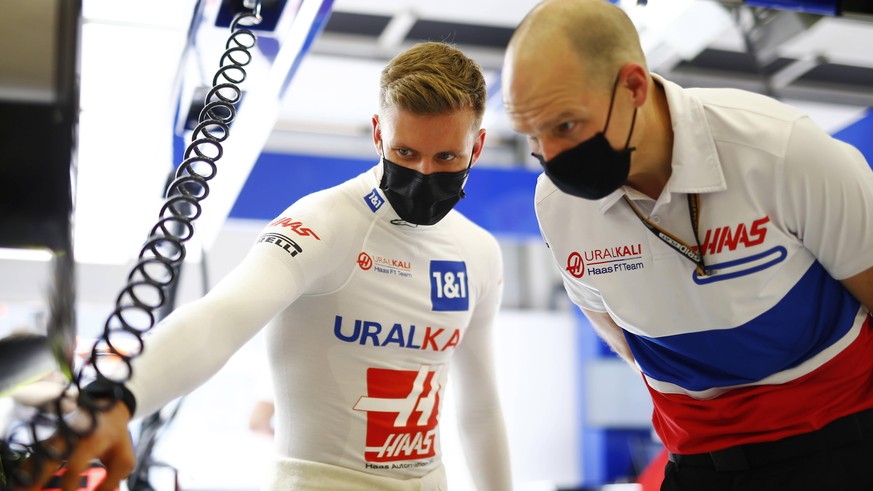 Mick Schumacher (left) and an engineer take a very close look at the car. Image: www.imago-images.de / Andy Hone
Interview
"Difficult to meet the expectations of the young generation": Expert on the role of Mick Schumacher
Germany and Formula 1, this connection has suffered a little over the past few years. But a pretty big circle comes full circle in the Bahrain desert this Sunday. "It was 30 years ago", Mick Schumacher had said before his big debut, "that my father drove his first race. And now I'm starting mine. That feels unbelievable."
The eyes of the whole motorsport world are on the 22-year-old's Haas car. After all, the name Schumacher stands for success and world championship titles in German motorsport. However, the Schumacher son started his first race from far behind. In the end he ended up in 16th place. Last. However, he didn't make any mistakes next to a turner. Seen in this light, a good start in the famous Formula 1.
In an interview with watson, motorsport expert Andreas Richter explains what is to be expected from Mick Schumacher in terms of sport, what effects he will have on motorsport in Germany and what special role Sebastian Vettel can play in the development of the German hope for young talent.
Andreas Richter worked intensively for 42 years in various areas in and with Formula 1. In 1997 and 1998 he was also media spokesman and marketing consultant for the then Formula 1 Vice World Champion Heinz-Harald Frentzen.
watson: Mr. Richter, after eleven years, the abbreviation in Formula 1 is "MSC" again. Ironically, 30 years after his father, Mick Schumacher will drive his Formula 1 debut race on Sunday evening in Bahrain. Can a 22-year-old even withstand so much pressure?
Andreas Richter: It's madness. The young man is under tremendous pressure. His father Michael was "the record world champion" since he got into motorsport. I don't think anyone outside can imagine what kind of print that means.
But you haven't noticed it yet.
In Sabine Kehm, he has an excellent manager. She brought him into Formula 1 excellently. So I believe that despite his young age and the enormous pressure, he will get into Formula 1 very well.
Mick has just turned 22 years old. Does it also provide a certain breath of fresh air in the perception of Formula 1?
In any case. People are more likely to feel addressed by athletes who come from their own generation. In addition, since long-time managing director Bernie Ecclestone resigned, Formula 1 has made great strides in social networks and tried to keep in touch with young people.
Motorsport expert Andreas Richter picture: Lichtbildatelier Eva Speith
Sponsoring expert Sebastian Kurczynski told the German Press Agency that the younger generation expected their idols to "stand up for issues like social justice" with strong opinions. In combination with the sport, can that be a bit much for Mick?
That could be a bit much and a bit difficult because Mick Schumacher drives in Formula 1. There has been a high degree of political neutrality there for many years. Therefore, he will find it difficult to meet the expectations of the younger generation because he cannot say everything that he would like and what would be appropriate.
What can we expect from Mick Schumacher in terms of sport?
The fact that he drives for Haas has one major disadvantage. With the spectators he will not collect many points due to excellent results in the front places. The quality of the Haas car is not enough for that.
Are there any advantages?
Naturally. He's not in the spotlight as he won't be up front for victories. That takes him a bit out of the media's line of fire and lets him work calmer and better. He'll get the most out of the Haas car.
Schumacher (r.) And his teammate Nikita Masepin (l.) Do not have a good relationship. Image: dpa / Hasan Bratic
Especially since the audience in Germany is also getting smaller. There will be no race in Germany and RTL has only secured the broadcasting rights for four races, all others are on Pay TV on Sky.
In terms of perception, this is a small disadvantage for him. Because the number of theoretical viewers is simply not that high anymore. I cannot yet estimate how big this effect could be over the next few years.
Speaking of the disadvantage … Haas boss Günther Steiner said in an interview with the "Süddeutsche Zeitung" that Mick and his teammate Nikita Masepin "are not the best of friends". Does that make his debut season harder?
It's a guy thing whether someone is more sensitive or not. Whether someone can develop their potential better when they feel a nest warmth or need a certain toughness. Basically, and it doesn't matter what the relationship between the drivers is, the most important and biggest competitor is always your own team-mate.
Could the internal competition also cause a certain distraction for Mick?
I do not believe that. Formula 3 and Formula 2 do not enjoy the media attention, but even there he has been led by the increased attention in tough competitive battles and taunts from his competitors have not influenced him. I don't see any problems in his first year.
To what extent does Sebastian Vettel help as a mentor, who has already announced his help?
There is no question for me that it is a help for Mick. But it's a double-edged sword. Of course I believe Sebastian Vettel when he says that he helps Mick wherever he can. On the other hand, it is also a competitor. Both want to do as well as possible.
Sebastian Vettel is now driving in the green Aston Martin. Image: James Moy Photography / PA Images / James Moy
Vettel also has the pressure of a debut with a new team in his first race for Aston Martin. Will you see another Vettel this season after the unsuccessful time at Ferrari?
I think so. At Ferrari there was a lot of tension and competition to the outside world. At Aston Martin he is wanted and he should bring the team forward. I believe it will flourish. Even if there is still a big question mark about the technical potential, because the test drives in Bahrain two weeks ago were very bumpy.
Even with the reigning world champions Lewis Hamilton and Mercedes, the test drives were overshadowed by many technical problems. Is he still the absolute favorite for the title?
This mishap was really a surprise, but for me it remains the big favorite. He is one of the best drivers of all time and he is highly motivated despite his seventh title. In addition, two years ago it was the case that Mercedes had enormous problems during the tests and then they drove the opponents to the ground.
In the season there is already a budget limit of 120 million euros for the teams. Further profound technical changes will then come for the 2022 season. Could many teams therefore give up the current season?
They are not going to get the most out of what they have – with the exception of Mercedes and Ferrari. The decisive technical decisions will all take place this year, which is why we will not see the full development of the teams.


[ source link ]
https://www.watson.de/sport/interview/725687571-schumachers-sohn-neu-in-formel-1-experte-mick-schumacher-kann-nicht-alles-sagen

Schumachers son Formula Expert Mick Schumacher