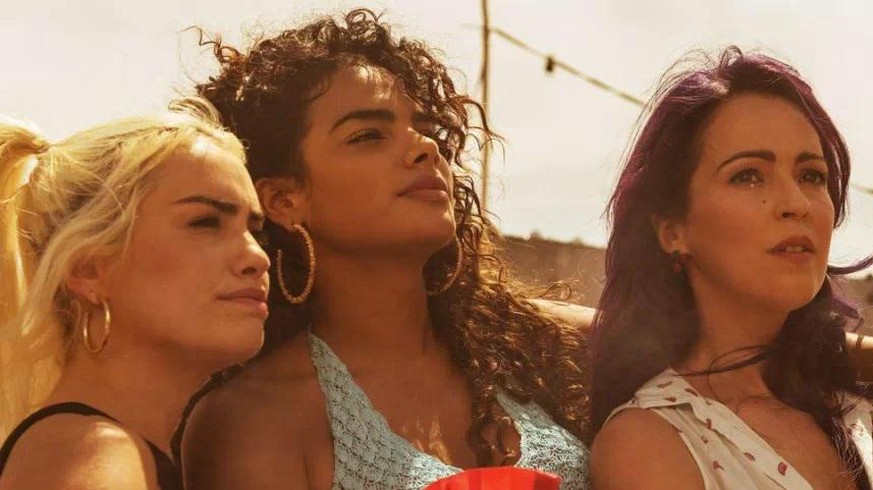 The new Netflix series "Sky Rojo" comes up with some violent spikes. Image: Netflix / Tamara Arranz
"Sky Rojo": Even a star was shocked by this brutal scene
The new series by the "House of Money" makers Álex Pina and Esther Martínez Lobato has hit Netflix right now: "Sky Rojo" tells the story of three young women on the run from the pimp Romeo and his henchmen. The action thriller hardly holds back with brutal scenes: violence is often exercised against women in the course of the plot, although the series also openly criticizes social grievances.
Last but not least, the protagonists Gina, Wendy and Coral also seek revenge on their tormentor. In this context, Gina actress Yany Prado named a scene in an interview with "Wired Up Report" that particularly shocked her.
"Sky Rojo" actresses provide background to shock scene
Prado initially reveals that a choreography first had to be worked out for some particularly brutal sequences so that everything really looks right in the end. She says: "Obviously these are boring scenes, but they are also funny because you don't realize you're doing something you didn't think you could do."
The main female characters in "Sky Rojo" know how to defend themselves. Image: Netflix
In addition, there is of course always post-production, which may add special effects. Therefore, the actors on the set cannot always fully assess what the end result will look like on Netflix. Finally, Yany Prado refers to a specific sequence:
"For example, I was shocked by the scene where Romeo's head was ripped off. This whole part of the show is great. I think you can see the very well-staged choreography of the stunt team there."
"Sky Rojo": That was how intense the brutal shoot was
When asked, Coral actress Verónica Sánchez stated that it even took "a day or two" to complete the scene in question. The reason: "It's a sequence that had to be shot many times – the reps weren't because they weren't working, but because they had to be rotated from so many different angles to get that level of adrenaline."
Finally, the 43-year-old was corrected by her colleague. Prado then interjected: "No, there were more days. I think there were three days between one thing and the next."
And further: "In 'Sky Rojo' it happens very often that what is actually only a very short scene is so technically demanding that it takes a few days – a small chapter section can even take up a whole week. "
By the way, all fans of the series have reason to be happy, because Netflix has already ordered a second season. Anything else would have been pretty frustrating, after all, season one ended with several cliffhangers. However, it has not yet been announced when exactly new consequences can be expected.
(ju)


[ source link ]
https://www.watson.de/unterhaltung/netflix/992610574-sky-rojo-von-dieser-brutalen-netflix-szene-war-selbst-ein-star-geschockt

Sky Rojo star shocked brutal Netflix scene