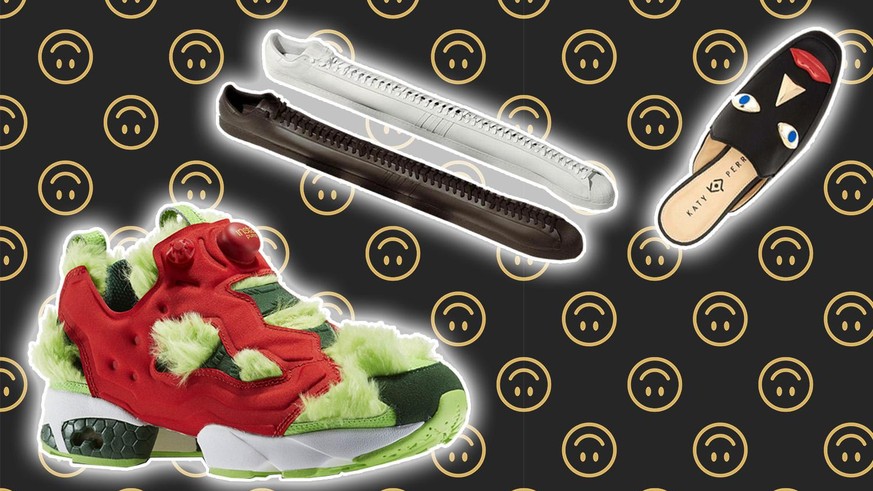 Allow me: The longest (!) Shoe in the world and 19 other bizarre kicks
Adidas has announced a sneaker collaboration with Estonian rapper Tommy Cash, which is generating incredulous looks on social media. But don't worry, the extravagant specimen is of course not alone.
The sporting goods manufacturer is a big fish in the sneaker market. Like their big competitor Nike, they repeatedly rely on collaborations with athletes and, above all, musicians in order to professionally pick up the target group. For example, recent collaborations with Beyoncé or Pharrell Williams.
Now this portfolio has been expanded to include the Estonian rapper Tommy Cash (aka TOMM ¥ € A $ H), who also sees himself as a concept artist.
To be found in the middle:
Anyone who knows his music and / or follows his Instagram channel already suspects that the collaboration with Adidas is likely to be found on the more extravagant edge of the fashion spectrum. As it turns out, even at the very edge …
The caption
"WHEN I TOLD ADIDAS THAT I WANT TO MAKE THE LONGEST SHOE IN THE WORLD AS A PART OF OUR COOPERATION, THEY REACTED 'WHAT THE HELL, TOMMY'. BUT 5 MONTHS LATER IT'S SO FAR. "
Allegedly a few copies are actually to be produced and raffled. However, they are unlikely to be found in large quantities in stores. Much rather a version more suitable for the masses, if you can believe the post on the Russian Instagram profile of Adidas.
While this should have been a more or less successful marketing gag, other shoe designs are actually meant seriously. And only slightly more bizarre …
The idea doesn't seem that new …
If my handcraft shoe project had looked like this, I would have had to detain …
"What do you want? Sneakers? Something with a wedge heel? Sandals? Cloth shoes? »
"And."
For endlessly oppressive moments on the toilet bowl!
Is that what shoes from shoe fetishists look like? 😬
When the macaroni have run out in kindergarten and you get "shoes" instead of "jewelry":
For the original price of CHF 466, they can look a little worn.
And otherwise there's always the cheaper version for just CHF 232.
Broken shoes are of course a bit more expensive. Cost point here: 530 $!
And if all of this is still too new for you:
So. Enough of that.
Is that kind of the Chernobyl collaboration?
When do shoes officially count as stilts?
Finally! The cameltoe for the foot!
Here is the branded product for a mere $ 825:
Why you should get your shoe vaccinated against smallpox:
How could the world function so far without Bluetooth speakers on the shoes?
Can we call them "Beats for Feet-s", please? Image: reddit
In any case, the competition never sleeps!
Finally! The answer to the question "What shoes would Yoda wear if he were part of the climate youth?"
As all hikers know, when it comes to shoes, nothing works without jewels …
"Jeweled hiking sneakers"
Will this prototype make it into the official selection?
So here we are again. On the verge of "so bad that it's cool again".
Oha! What a cunning ruse!
Was this side parting and short snout look wanted? It is to be doubted …
After all, hardly any parent will object to these new shoes.
Even more banal things about art and life:
(jdk)
THANK YOU FOR THE ♥
Would you like to support watson and journalism? Learn more
(You will be redirected to complete the payment)
39 pictures that show what haute couture is good for in everyday life
This is what online shopping would look like in "real life"
You might also be interested in:
Subscribe to our newsletter


[ source link ]
https://www.watson.ch/spass/bilderwelten/920920124-sneaker-kooperation-von-adidas-mit-tommy-cash-die-20-skurrilsten-schuhe

Sneaker cooperation Adidas Tommy Cash bizarre shoes