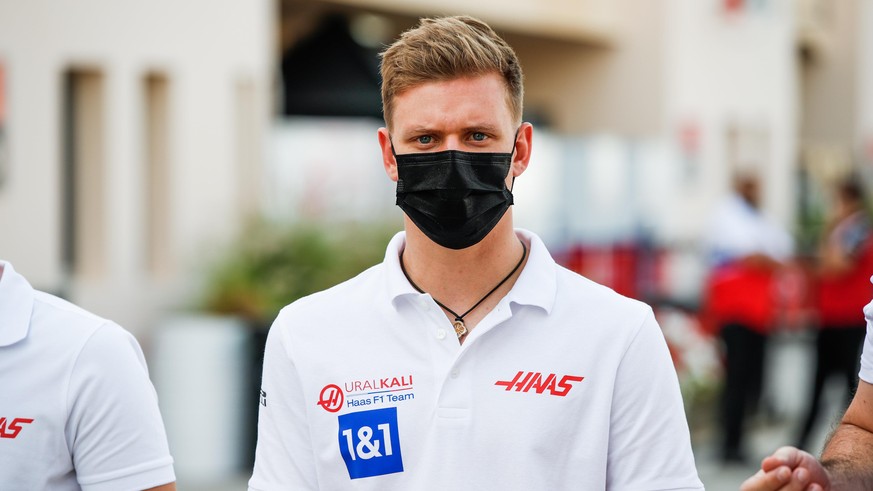 Mick Schumacher in the paddock at the Grand Prix in Bahrain. Image: DPPI Media / FLORENT GOODEN
Analysis
"My name is Schumacher, so I have to be good": Sports psychologist talks about Mick's first season in Formula 1
The Formula 1 racing car was already waiting, but Mick Schumacher had a bit of time before the start – so he summed up the importance of this day in a nutshell himself. "For me, a lifelong dream is now coming true," said the 22-year-old in Bahrain, jumping into the cockpit a little later, stepping on the gas – and is now officially part of the premier class. As expected, he did not play a major role in his first race. At the end of the field he gained kilometers and experience in the defeated Haas, first laps and a spin in the initial phase were part of it. In the end, Schumacher took 16th and last place.
With that he achieved his first goal: he wanted to finish the race. "It won't be that I'm trying to go in extremely aggressively," he had previously emphasized. "I wouldn't do anything stupid." On his debut in Bahrain in 1991, his father Michael Schumacher had not even come a mile after a technical defect.
"If he starts thinking, then he's already lost"
Mick Schumacher wanted to focus on the simple things and reflect on his strengths. Not an easy task, given the unbelievable pressure that experts say is on him. He's not just a normal newcomer to the premier class of motorsport, but the son of the record world champion. Sports psychologist Thorsten Loch says:
According to the sports psychology advisor, it depends on Mick personally how much pressure he actually feels before a race. "There is the question of how he experiences the situation himself: 'Do I have to imitate my father now or do I say, I'm just Mick and do my own thing?' "he reveals to watson. It is now important for Schumacher not to lose focus on what is important.
Sports psychological advisor Thorsten Loch. image: diesportpsychologen.de/screenshot
"The trust and the knowledge of his strengths lead to the fact that he can let go and can optimally play out these skills in the here and now," explains Loch. "But when he starts to think, he is thinking consistently and is preoccupied with things in the future that he can only influence in the here and now. Then he has already lost."
At Schumacher, demands and objectives have to be balanced
Again and again experts, former drivers and officials commented on their expectations and compared Mick Schumacher with his father. "People from the outside then want to impose something on him, which is unrealistic for him at the time," said Loch. It is much more important that aspirations and objectives are balanced and that they reflect on themselves. To support this, athletes often look for people from their immediate environment to whom they attribute competence and whose opinion they trust. And further:
Mick Schumacher can benefit enormously from the exchange with Vettel
"I don't have to learn everything right now," stressed Mick Schumacher at the press conference on Thursday. He can think about what the most important things are, take them on and check them off one by one.
And in his development as a young Formula 1 driver, Mick Schumacher will also make a few mistakes in the coming races. "But mistakes offer development opportunities and development just hurts"says Loch and shows two courses of action. "Either I doubt myself too much or I have healthy doubts, wondering what I need to improve and how I can bring my strengths even more to bear."
The constructive exchange with other, experienced athletes can also help. Therefore, Schumacher can only benefit from a mentor like Sebastian Vettel, who has already experienced all the ups and downs in Formula 1. "You don't have to reinvent the wheel, you just have to look at similar skills to see how you can use them yourself, improve them or even outperform them."
Action goals should be with Mick im
Stand in the foreground
But it's still about driving a first race and a whole season. Haas team boss Günther Steiner already told his team in an interview with the "Süddeutsche Zeitung" before the Grand Prix in Bahrain: "They should bring the cars home: drive as much as possible, including the end of the race." That'll be hard enough.
Loch also advises Schumacher to get away from placements or certain result goals and to concentrate on certain action goals. "How do I control my car? How does the pit stop go? How do I act when overtaking?" And should the 22-year-old succeed in consistently performing well in these areas, then "the personal best is only the logical consequence".


[ source link ]
https://www.watson.de/sport/analyse/253851981-sportpsychologe-mit-dringendem-rat-an-mick-schumacher-dann-hat-er-schon-verloren

Sports psychologist urgent advice Mick Schumacher hes lost