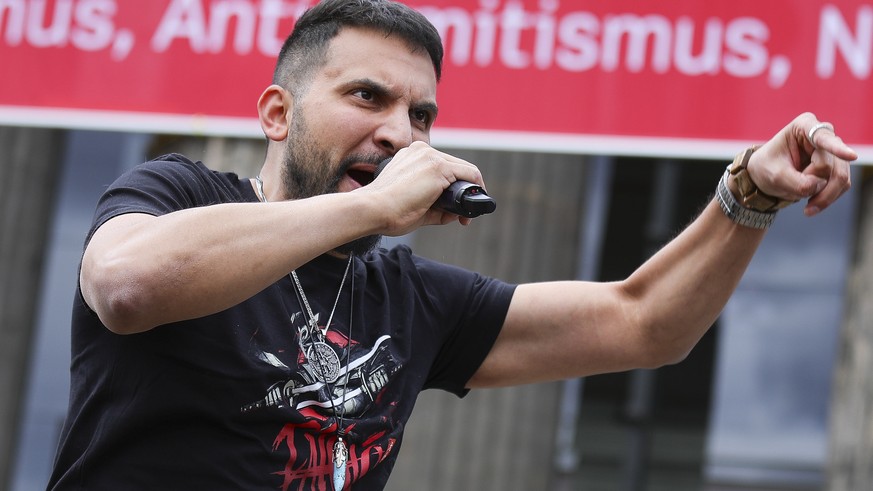 "Sunny greetings from Turkey": Attila Hildmann makes fun of the public prosecutor
For weeks, the Berlin Public Prosecutor's Office has been searching for Attila Hildmann with an arrest warrant. But the corona denier has gone to Turkey – and is now mocking the German judiciary from there.
In the course of the corona pandemic, vegan chef Attila Hildmann had repeatedly caused a stir with extreme conspiracy ideologies and demonstrations. Then suddenly he went into hiding. The reason: the Berlin public prosecutor's office issued an arrest warrant against him for sedition, public incitement to criminal offenses and resistance to police officers.
However, it could not be enforced because Hildmann is currently in Turkey, the judicial authority made public on Thursday on Twitter – and promptly received an answer from the person wanted.
Attila Hildmann in July 2020 in Berlin. Image: keystone
"I'm sorry for you, but we can exchange ideas on Twitter," the 39-year-old scoffed and sent "sunny greetings from Turkey". "You can't come here, unfortunately," he shot afterwards, adding a grinning smiley face.
And it didn't stop there. In further tweets on his profile, Hildmann laughed at the German judiciary, posed with the Turkish flag and emphasized that he had "dual citizenship" but would soon hand over his "BRD identity card".
"The accused has both German and Turkish citizenship," the public prosecutor later confirmed on Twitter. To what extent they can proceed against the conspiracy ideologist remains to be seen. As part of the investigation, over 1000 allegations against Attila Hildmann are examined.
THANK YOU FOR THE ♥
Would you like to support watson and journalism? Learn more
(You will be redirected to complete the payment)
You might also be interested in:
Subscribe to our newsletter


[ source link ]
https://www.watson.ch/international/coronavirus/395042598-sonnige-gruesse-attila-hildmann-macht-sich-ueber-behoerden-lustig

Sunny Attila Hildmann fun authorities