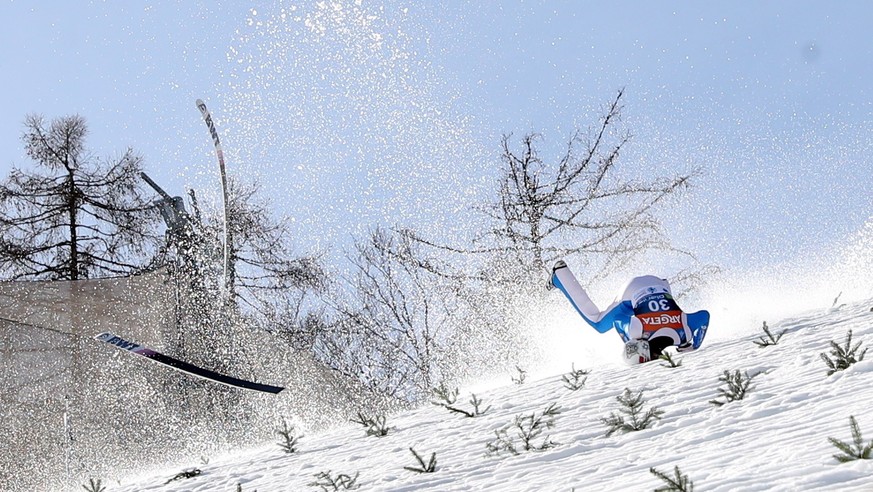 Daniel-André Tande receives first aid in the ski jumping area. Image: keystone
That's why Tande fell so terribly – and that's how the ski flyer feels
His trainer Alexander Stöckl did not blame Daniel-André Tande's horror fall yesterday because of the external conditions that were much better yesterday than today. «We analyzed the video. It was his own mistake, "said the 47-year-old Austrian.
«He was too offensive in the first phase of the flight. He got wide on the skis relatively quickly and then leaned a little on the air. Then he lost contact with the skis. You can't really find anything there, except your own fault. "
"According to the circumstances he is doing well"
Stöckl expressed the great hope that the 27-year-old Norwegian would get away without permanent health damage. «The first tests did not reveal anything negative. They did a brain scan and checked the neck. There is nothing to report, that's very positive, "he told the German press agency. "Given the circumstances, he is doing fine."
Tande was intubated and mechanically ventilated after his fall. "Today we had the positive news that he has already started to breathe himself," added Stöckl. His jumper has so far been diagnosed with a broken collarbone and a slight puncture of the lungs.
Geiger wins on Friday
At the second competition on the ski jumping hill in Planica, the Swiss quartet suffered a setback. Gregor Deschwanden as the best classified missed the World Cup points. He touched down after 210 m. Despite a decent landing, this was only enough for 34th place, which speaks for the density of the field. Sandro Hauswirth (38./203 m), Simon Ammann (40./203.5) and Dominik Peter (57./187.5) are aiming for better performance in team jumping on Saturday.
The winners podium with Kobayashi, Geiger and Pavlovic (from left). Image: keystone
Karl Geiger prevailed with a flight of 232 m ahead of the Japanese Ryoyu Kobayashi and the Slovenian Bor Pavlovcic. The German already flew to gold at the ski flying world championships on the same hill in mid-December.
The competition was rated after one round because there is no permanent floodlight system installed on the ski flying hill in Planica. The wind had initially caused delays, and it also took the river from the competition. (ram / sda / dpa)
THANK YOU FOR THE ♥
Would you like to support watson and journalism? Learn more
(You will be redirected to complete the payment)
Simon Ammann's career
Important advice to my starting pandemic me
You might also be interested in:
Subscribe to our newsletter


[ source link ]
https://www.watson.ch/sport/wintersport/151492299-darum-ist-tande-so-schrecklich-gestuerzt-und-so-geht-es-dem-skiflieger

Tande fell terribly ski flyer feels