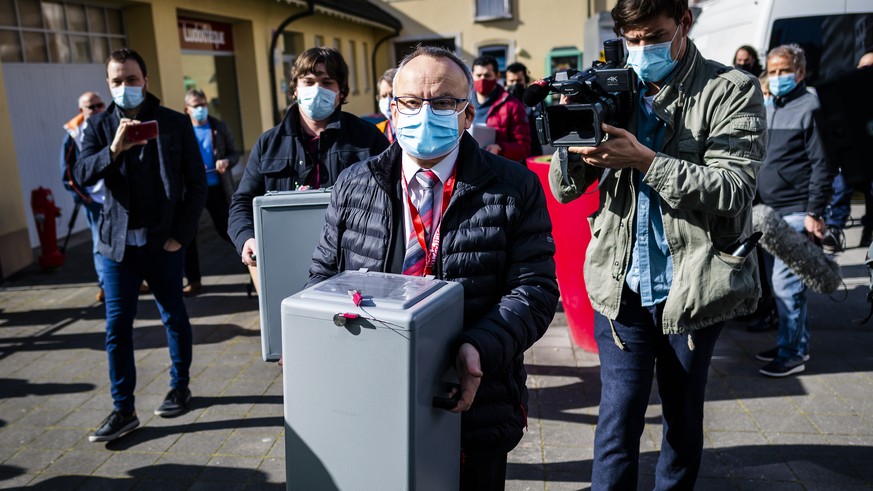 Later in the morning the sealed urns with the votes cast by letter had arrived from Berne. Image: keystone
The tension rises – now the count is in Moutier (and there is even a live stream)
In Moutier BE, the urns were closed shortly after 12 noon on Sunday. The counting began under the supervision of the federal observers. The result is expected around 5 p.m.
No incident has been reported so far. For security reasons, everyone involved in the counting must hand in bags and mobile phones, as Jean-Christophe Geiser from the Federal Office of Justice explained to the Keystone-SDA news agency. Anyone involved in the counting is also not allowed to leave the building.
The count can be followed live on the community's YouTube channel.
The situation in town was calm on Sunday morning. There were only gatherings in front of restaurants that offer take-away. Police officers patrolled the streets. A large contingent has not yet been visible. There was also quiet on Sunday lunchtime on Bahnhofplatz, the meeting place for the separatists.
Later in the morning the sealed urns with the votes cast by letter had arrived from Berne. The delivery from the Federal Office of Justice was escorted by the police. Those who wanted to vote by letter had sent their envelope to the Federal Office of Justice in Bern.
The white delivery van arrived at the voting booth around 10.50 a.m. Canton police and federal observers brought the four sealed urns into the building, where the counts later began. The votes sent by letter are counted at the same time as those from the urns on site. Around 4,400 people are entitled to vote.
Observers are also assuming a narrow verdict at the second attempt after the canceled polls in 2017. Four years ago, only 137 votes made the difference. The local council has banned rallies as a precaution and divided the city into two zones, in which separatists and proberners are said to be locally separated on Sunday. (sda)
THANK YOU FOR THE ♥
Would you like to support watson and journalism? Learn more
(You will be redirected to complete the payment)
You might also be interested in:
Subscribe to our newsletter


[ source link ]
https://www.watson.ch/schweiz/bern/737603735-die-spannung-steigt-nun-wird-in-moutier-ausgezaehlt-und-es-gibt-sogar-einen-livestream

tension rises count Moutier live stream