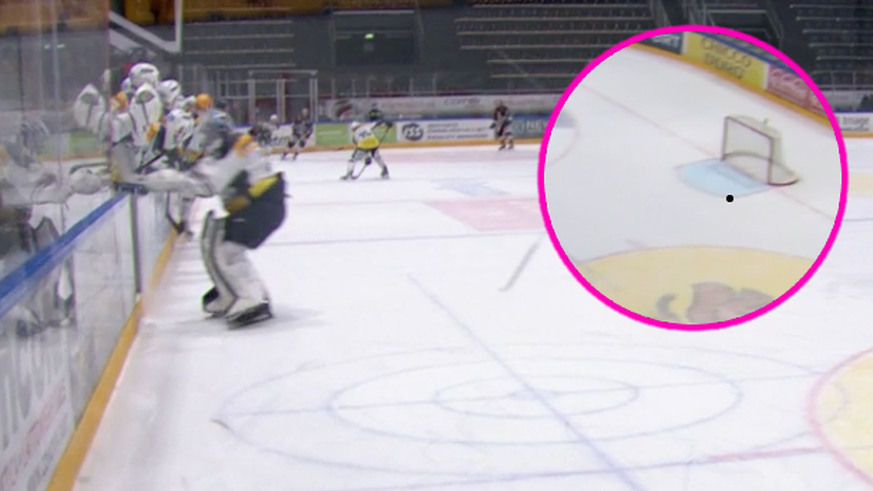 Goalie Ciaccio leaves the ice, Fischer misses a pass in front, so that the puck goes into his own goal. picture: srf / watson
This incredible own goal by Ambri gives Lugano a Derby victory
HC Ambri-Piotta also lost the sixth Ticino derby against HC Lugano this season. But the Leventines have to take their own nose – after all, they scored the decisive goal themselves. The goal is likely to go viral:
If the score is 4: 4, a penalty against Lugano is indicated. Ambri therefore takes goalie Damiano Ciaccio out of the game in order to act with an additional field player.
But the power play turns into a fiasco. Noele Triconi wants to match the puck with the blue line, but Jannik Fischer misses it. The disc slipped past him on the stick, over the entire field – and to the 5-4 opening goal for Lugano into the goal. The people of southern Ticino can hardly believe their luck.
"We mustn't worry about it," emphasizes unlucky Fischer at MySports. Conceding a goal like this, "a lot has to go together or not for the target to go in."
The goal is attributed to Lugano Raffaele Sannitz because there are no own goals in ice hockey. Two and a half minutes before the end, it is the game winner, because Ambri can no longer return to the game. Reto Suri is responsible for the 6: 4 into the empty goal 20 seconds before the final siren.
Lugano is happy about the success and writes of a goal that will go down in derby history.
While HC Lugano celebrates its seventh win in a row, the defeat is doubly annoying for Ambri-Piotta. Because three points would have been valuable to intervene again in the fight for the playoff places. The victory in the Resega was definitely there: Ambri had made a 4: 3 lead from a 0-2 deficit in the middle third.
Ambri coach Luca Cereda still believes in his team. On Ticino television he said: "We played well for 60 minutes and can be proud of ourselves. Some already think we are dead, but we are not yet. Until we're red on teletext, we'll keep fighting, like tonight. " On Saturday it goes for the table 11. Ambri against the tenth-placed Rapperswil-Jona – in the event of a defeat against the Lakers, the playoff dream would probably be over.
More ice hockey:
THANK YOU FOR THE ♥
Would you like to support watson and journalism? Learn more
(You will be redirected to complete the payment)
You had a job! 🙄
This fondue chat also backfired
You might also be interested in:
Subscribe to our newsletter


[ source link ]
https://www.watson.ch/sport/schaun%20mer%20mal/672461448-dieses-unfassbare-eigentor-von-ambri-schenkt-lugano-den-derby-sieg

incredible goal Ambri Lugano Derby victory