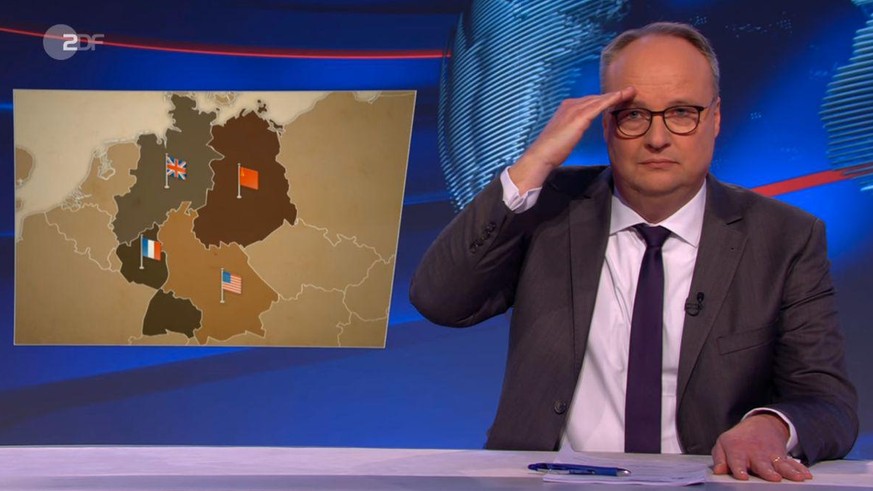 "We need help!" Preferably from the former victorious powers. "Three out of four have vaccines," said Oliver Welke. screenshot zdf
"Today Show": Oliver Welke provokes with a call to the victorious powers
"We need help!": Oliver Welke said it bluntly on the "heute-show" because "we no longer have it in this over-regulated country". And who can help after the German government emphatically demonstrated its "sheer extent of dilettantism" in a twelve-hour "Ministerpräsi Round"? Sure: the victorious powers!
The "heute-show" provoked on Friday with an urgent appeal to "dear Joe" (Biden), "dear Emmanuel" (Macron), "dear Boris" (Johnson) and "Mr. Putin". Wilt goes where it hurts and says: "The Allies must help Germany once again. " Because, according to Welke: "Three of the four victorious powers have vaccines." Specific suggestion: "Just take over your old occupation zones, we Germans will only keep Mallorca."
Satire at its best. But the templates were too beautiful.
"The fight will be decided at the vaccination front!"
"What was that?" Oliver Welke was not yet finished with the processing of the Easter egg dance that Merkel and her 16 prime ministers offered to the weary people. Invention of the Easter rest after twelve hours of negotiations and immediate cashing of the same. Because the Easter rest was thought out without having to clarify with experts what everything was attached to it.
Welke: "Andy Scheuer had to call Lufthansa bosses that night! As if someone were answering the phone when Andy's number is on the display."
Of course, it is nice if someone stands by their mistakes, said Welke, referring to Chancellor Merkel's courageous admission of guilt to the whole world, but: "An idea would be even better." Because after the canceled Easter rest, nothing new will be offered apart from the same "Stone Age methods" that have been followed for a year. Above all, there is no hope because "testing and vaccination does not come from the quark". But, so withered: "The fight against Corona will be decided on the vaccination front, not in Mallorca."
Wilt attested Merkel lack of plan. screenshot zdf
Allianz: No money for threatened restaurateurs, four billion for shareholders?
After all, according to Welke, the rulers learned a lot after the tragic night of negotiations. Armin Laschet confessed that he had no knowledge of baby food supply chains, for example. Welke: "Now we know: it's the babies' fault! Because these egoists want to eat something all the time." The people are friable, many branches of the economy suffer, especially the gastronomy. Welke: "Every fourth company is thinking of giving up."
But there is one industry that you don't have to worry about: insurers. They expressed themselves in connection with the battered restaurateurs about the payment of business closure insurance. It is true that in many contracts it is anchored that the insurance company pays if "the competent authority closes operations due to the Infection Protection Act" – and yet many insurers withdrew from the payment obligation because Covid-19 is not explicitly listed. "As well," said Welke, "the virus hasn't been around that long."
An inglorious example, according to Welke, is the industry leader, Allianz. Although it pays policyholders "very, very reluctantly", it is generous with shareholders: in 2020 it paid out four billion euros in dividends!
A blessing for cars and sewage treatment plants – but not for homosexuals!
A "discovery insurance" would not have been bad for Cardinal Woelki. Because now he had to give up his long resistance: After decades of cover-up, "Habemus abuse reports" had to be reported. There were even personal consequences (Welke: "Two auxiliary bishops and the chief of the church court can now sleep longer on Sundays."), Of course not by or against Woelki. He is also not thinking of resigning because, in his view, it is "a symbol that lasts for a short time only". Welke smugly: "Oh, do it anyway – I'll be happy for a moment."
"Habemus Abuse Report." Cardinal Woelki is not considering resigning. screenshot zdf
Nevertheless, Germany is currently the center of a huge clerical protest movement. The German bishops complain (Welke: "The largest German church uprising since Luther.") on the decree of the Vatican Congregation for the Doctrine of the Faith denying blessings to homosexual couples.
Monsignor Sebastian Puffpaff of the Congregation for the Doctrine of the Faith, legitimate successor organization to the Inquisition, wanted to be brief: "Why not a blessing for homosexuals? Because sex is outside of marriage." But Welke asked: "But only because you prevent marriages among homosexuals." Then the monsignor almost choked on the cappuccino: "Marriage for homosexuals? But a witch cooks me up!"
The "common homosexual", said Puffpafff with biting sarcasm, should be grateful that he was no longer judged as he used to be ("And what we judged, it flickered every three meters!") In addition: The blessing is generally handled generously. Dogs, sewage treatment plants, elevators, sections of freeway, cars – everything would be blessed. Puffpaff: "Even e-cars, although they are also gay." And anyway: "The homosexual ends up in hell anyway. That would be a waste of blessings, so to speak." Amen.


[ source link ]
https://www.watson.de/unterhaltung/tv/286496693-heute-show-oliver-welke-provoziert-mit-aufruf-an-siegermaechte

Today Show Oliver Welke provokes call victorious powers