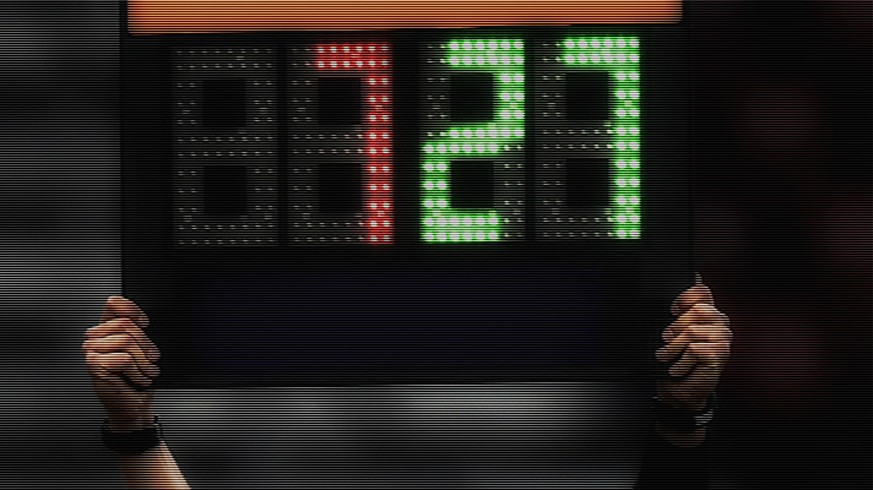 Transfericker
Bosz sacked at Leverkusen +++ Is Alaba going to Real Madrid?
Bayer Leverkusen sacked coach Peter Bosz
After the 3-0 defeat in Berlin they split up Bayer Leverkusen from coach Peter Bosz. This happens after the "Werkself" slipped into 6th place with just eight points from nine games in the second half of the season. In addition, there was the early elimination in the DFB Cup against Rot-Weiss Essen and in the Europa League against YB.
Sports Manager Rudi Völler says: «In view of the development of football in recent weeks, we have come to the conclusion that the Separation from Peter Bosz can no longer be avoided. " Sports director Simon Rolfes adds that "a year without Europe with our squad is inconceivable."
Successor Hannes Wolf with assistant trainer Peter Hermann. Wolf previously coached VfB Stuttgart and Hamburger SV. Most recently he worked for the German U18 national team. (nih)
David Alaba agree with Real Madrid?
One thing is clear: David Alaba will leave Munich in the summer. After a total of eleven seasons with FC Bayern, he will no longer renew his contract. The rumor mill has been running hot since the announcement, but now the 28-year-old is said to have made a decision.
Alaba should come with Real Madrid have negotiated a four-year contract. This was reported by the Spanish medium ABC. Accordingly, the Austrian has PSG called off. Apparently it is not quite that far yet. The «royal» are said to be Alaba's favorite, but the decision is not yet final. The 76-time national player wants to create clarity by the EM. (nih)
David Alaba 🇦🇹
Position: Defender
Alter: 28
Market value: 55 million euros
Balance 2020/21: 35 games, 2 goals, 3 assists
Source: image
Holt Arsenal Coutinho vom FC Barcelona?
Moved for 145 million euros Philippe Coutinho from Liverpool to in January 2018 Barcelona. However, the Brazilian never really hit the ground running in Spain. In the 2019/20 season he was loaned to Bayern in the Bundesliga, but could not really convince there either. Now a return to England is in the room.
Arsenal London should be interested in the currently injured 28-year-old midfielder and Barcelona would like to get rid of him. This has to do with the fact that Barça must transfer another 20 million euros to Liverpool if Coutinho comes to 100 appearances in the jersey of the «Blaugrana». The Brazilian would Martin Odegaard Replace with the «Gunners» if it closes in summer Real Madrid, where he is still under contract, would return.
Of the FC Barcelona also needs money to have realistic odds in poker Erling Haaland to have. They should also be ready for this, Antoine Griezmann for sale. (nih)
Philippe Coutinho 🇧🇷
Position: midfield
Alter: 28
Market value: 40 million euros
Balance 2020/21: 14 games, 3 goals, 2 assists
Quelle: Daily Express
Martial exit at ManUnited possible in summer
The Premier League table runner-up is reportedly ready to accept offers for Anthony Martial listen. After a strong last season with 17 goals in 32 league games, the 25-year-old is not a goal guarantee this season. So he's currently been waiting for a hit for nine missions.
The Frenchman has been with Monaco since joining Manchester United under contract. He failed to perform consistently over his five seasons in the Premier League. Now his time with the "Red Devils" could soon be up. (nih)
Anthony Martial 🇫🇷
Position: striker
Alter: 25
Market value: 50 million euros
Results 2020/21: 36 games, 7 goals, 8 assists
Quelle: Daily Express
Xabi Alonso will probably be the new Gladbach trainer
Borussia Monchengladbach apparently has a successor for the coach who is changing to Borussia Dortmund Marco Rose found. As the "Bild" newspaper reports, there is an agreement with the former Bayern star Xabi Alonso. The Spaniard is currently training the second team of Real society, which is currently the league leader in the third Spanish division. Before that, he joined Real Madrid's U14 team in 2017.
Alonso knows the Bundesliga from his time Bayern Munich: Between 2014 and 2017 he played for the German record champions. During this time, Alonso also acquired a good command of German – one aspect that Gladbach sports director did Max Eberl should have been very important. (pre)
Cuisance wants to stay in Marseille
The 21 year old Michael Cuisance is currently from Bayern Munich loaned to the fifth of Ligue 1. If the French have their way, he would like to continue beyond this season Olympique Marseille stay.
Coach Jorge Sampaoli's team has a purchase option of 18 million euros. The midfielder is mainly used as a joker, but recommended himself for a bigger role with two goals in the last two games. For this, Cuisance only needed 17 minutes of playing time. (nih)
Michaël Cuisance 🇫🇷
Position: midfield
Alter: 21
Market value: 10 million euros
Balance 2020/21: 20 games, 2 goals, 1 assists
Source: kicker
The winning goal from the Joker Cuisance against Stade Rennes.
City will Aston Villas Grealish im Sommer
Jack Grealish is one of the most sought-after players in the Premier League. All the top teams in the Premier League would love to see him in their jerseys. Now it looks like it is Manchester City favored signing the triple international in the summer.
The 25-year-old Englishman signed a five-year contract with Aston Villa just before the season started after a failed move to city rivals Manchester United. (nih)
Jack Grealish 🏴󠁧󠁢󠁥󠁮󠁧󠁿
Position: wing
Alter: 25
Market value: 60 million euros
Balance 2020/21: 23 games, 7 goals, 12 assists
Quelle: Daily Mail
Chelsea want Haaland at all costs
Of the FC Chelsea should be ready for the price tag of 150 million euros Erling Haaland to pay. But only if Thomas Tuchel's team reaches the Champions League.
The striker of Borussia Dortmund is hotly advertised and should be available in summer from the price mentioned above. In the summer of 2022, the Norwegian has a release clause of 75 million euros in the contract. With 31 goals in 30 games so far this season, Haaland has shot itself on the wish list of several top European teams. In addition to Chelsea are probably too Real Madrid, Manchester United and FC Barcelona Interested.
The blues have with them Timo Werner only brought a striker from the Bundesliga to London in the summer. So far this has not been able to convince with ten goals in 39 games it is clearly below expectations. (nih)
Erling Haaland 🇳🇴
Position: striker
Alter: 20
Market value: 110 million euros
Results 2020/21: 30 games, 31 goals, 8 assists
Quelle: The Sun
Boca Juniors want Cavani
The Uruguayan is said to be Manchester United be unhappy due to a lack of working hours. In addition, his father said that he wanted to be closer to his family and therefore to England leave in summer will.
The contract of Edinson Cavani expires in summer and both sides are probably not interested in an extension. The Boca Juniors want the 34 year olds like to sign and Cavani shouldn't be averse. (nih)
Edinson Cavani 🇺🇾
Position: striker
Alter: 34
Market value: 7 million euros
Balance 2020/21: 25 games, 7 goals, 2 assists
Quelle: Daily Mirror
BVB brings next top talent
Borussia Dortmund has caught the next top talent: BVB has the obligation of the French central defender Soumaila Coulibaly from master Paris St-Germain announced. The 17-year-old receives a long-term contract. "I am grateful for the training I have enjoyed at PSG, but I believe that this move is now the best step for me," said Coulibaly. The U18 national player is currently curing a knee injury.
Coulibaly also had "offers from other clubs, but when I spoke to the BVB officials for the first time, I knew straight away that this was the right club for me". (pre / tol)
Soumaila Coulibaly 🇫🇷
Position: central defender
Alter: 17
Market value: Unknown
Balance 2020/21: 4 games, 0 goals (youngsters)
Cristiano's agent is negotiating with Real Madrid
Cristiano Ronaldo is said to have instructed his agent to arrange a transfer with Real Madrid to negotiate. Accordingly, he wants to return to his old club in the summer of 2021.
"CR7" is still there bus 2022 bei Juventus Turin under contract, but would like to leave the club prematurely after the disappointing CL-Aus against FC Porto. The Portuguese has already from 2009 to 2018 with the «royal» played and with four Champions League titles and two championship titles had a very successful time. (nih)
Cristiano Ronaldo 🇵🇹
Position: striker
Alter: 36
Market value: 60 million euros
Results 2020/21: 33 games, 30 goals, 4 assists
Quelle: Daily Mirror
Agüero open to change within the Premier League
Sergio Agüeros Contract expires at the end of this season and he still has no new offer from his employer Manchester City receive. The Argentine would like to stay with his club. Should the "Citizens" not renew his contract anyway, he would be willing to do so with someone else Premier-League-Club to sign. Also the FC Barcelona is interested in the 32 year old.
Manchester City are in no rush to start talks with their striker and could wait until after the end of the season. Aguero came ten years ago by Atlético Madrid. (here)
Sergio Aguero 🇦🇷
Position: striker
Alter: 32
Market value: 25 million euros
Balance 2020/21: 14 games, 3 goals
Quelle: The Times
Bayern take over central defenders from Leipzig
Dayot upamecano changes at the end of the season within the Bundesliga from Leipzig to Bayern Munich. This was confirmed by Bavaria's sports director Hasan Salihamidzic in an interview with the "Bild" newspaper.
The 22-year-old French central defender, who gave Bayern a fixed transfer from 42.5 million euros costs, should David Alaba replace who will leave the winner of the Club World Cup. Leipzig, on the other hand, continues to rely on the full-back Angeliño can count. Bayern's first pursuer in the Bundesliga takes over the Spaniard, who has been loaned from Manchester City, with a contract until 2025. (sda)
Dayot Upamecano 🇫🇷
Position: central defender
Alter: 22
Market value: 60 million euros
Balance 2020/21: 32 games, 1 goal
THANK YOU FOR THE ♥
Would you like to support watson and journalism? Learn more
(You will be redirected to complete the payment)
These are the 45 most expensive football transfers in the world
Getting drunk and complaining with Quentin
You might also be interested in:
Subscribe to our newsletter


[ source link ]
https://www.watson.ch/sport/transferticker/232923786-transfer-ticker-peter-bosz-bei-leverkusen-entlassen

Transfer ticker Peter Bosz sacked Leverkusen