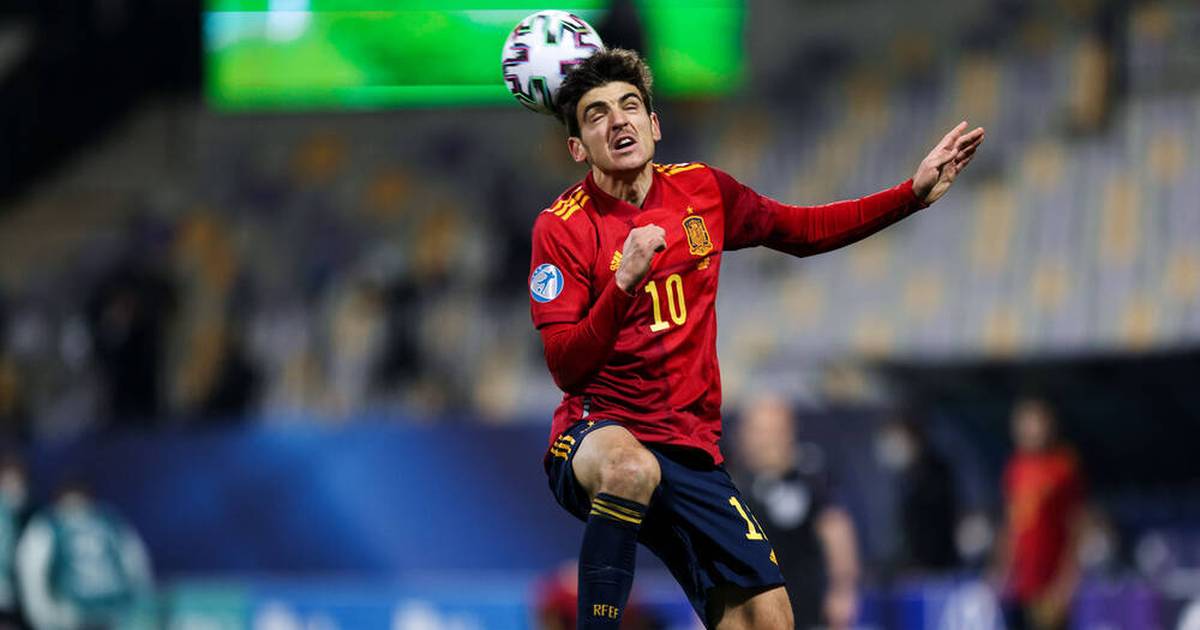 Defending champion Spain missed an early entry into the quarter-finals of the U21 European Championship in a heated game.
The Iberians had to be content with a 0-0 win in the duel of the record European champions against Italy in Maribor. In the final phase, referee Harm Osmers (Hanover) sent three players to shower early. (Schedule and results of the U21 European Championship)
Test DAZN for free and experience international football highlights live & on demand | DISPLAY
Three dismissals in Spain against Italy
The duel between the five-time European champions was dreary for a long time before it went well: The Italians Gianluca Scamacca (86th) and Nicolo Rovella (88th) saw yellow-red, the Spaniard Oscar Mingueza red (87th) after a headbutt. Already in the 1-1 draw against the Czech Republic at the start of the European Championship, two Italians were thrown off the field.
With four points, Spain is in Group B, ahead of the Czech Republic and Italy (2 each), Slovenia (1) is fourth. (The tables of the U21 European Championship)
Germany's opponent Romania with first victory
Germany's upcoming opponent Romania clinched their first victory. The team of coach Adrian Mutu defeated co-hosts Hungary in Budapest after a deficit 2-1 (0-0). The Hungarians, who lost 3-0 to the DFB team at the beginning, have no chance of the quarter-finals.
Alexandru Matan from the US team Columbus Crew (69th) and Alexandru Pascanu from the Spanish second division SD Ponferradina (87th) met in the tough game for the Romanians, who on Tuesday (6 p.m. / Sky) met the team from Meet Stefan Kuntz. Neighboring Hungary had taken the lead after the yellow-red card against ex-Cologne Adrian Szöke (42nd), outnumbered by Andras Csonka (56th).
In Romania, striker George Ganea and midfielder Marius Marin each received a second yellow card and are suspended against Germany.
The second European Championship hosts Slovenia also missed their first win in a 1-1 (1-0) win against the Czech Republic despite leading. Thanks to Aljosa Matko from record champions NK Maribor (32nd), the Slovenes led in Celje for a long time before Nik Prelec (Sampdoria Genoa) underwent an own goal in the 85th minute. In the event of a defeat, the Slovenes, who started 3-0 against Spain, would have had no chance of the quarter-finals.
The two best teams in each group reach the quarter-finals, which will not take place until the end of May. Because of the corona pandemic, the tournament, which will be held in Slovenia and Hungary, will take place in two parts this year.


[ source link ]
https://www.sport1.de/fussball/dfb-team/2021/03/u21-em-letzter-dfb-gegner-rumaenien-holt-ersten-sieg

U21 DFB opponent Romania wins