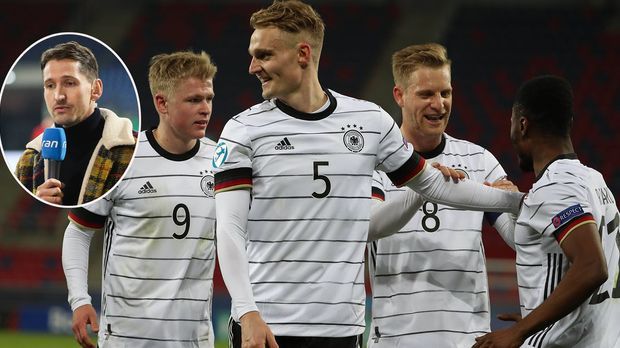 Hello dear soccer friends,
the first matchday of the U21 European Championship in Hungary and Slovenia (live on ProSieben, ProSieben MAXX and ran.de) is history and we have already experienced two really big surprises – because the two top favorites England and France each had one Take defeat. The English were defeated by Switzerland, the French lost to "Danish Dynamite".
So, of all things, the two teams that were talked about the most in advance and who have by far the most expensive players – at least in terms of market value – in their squad. But that is exactly what shows that this U21 European Championship is simply under a different star and completely different guidelines apply.
The biggest problem from my point of view: the teams had no preparation time and couldn't get used to it. It also shows that money doesn't always score goals. Team spirit is also important. Perhaps more important than anything else at this tournament.
For me, at this special U21 European Championship, the teams that have been playing together in exactly the same constellation for a long time and therefore know their own processes and mechanisms inside out have a clear advantage. They thus form a conspiratorial unit and are really difficult to play with – something the English and French had to experience painfully.
And then of course there are also the teams that manage to become just such a unit in a very short time. Like Germany. Because, as I already wrote in my previous column, that is exactly the strength of U21 national coach Stefan Kuntz to convey this incredible feeling of togetherness to the boys. We could already see signs of this in the 3-0 opening win against Hungary.
After the first 60 minutes were a bit bumpy, things suddenly went like clockwork after Lukas Nmecha had untied the knot 1-0. Against an opponent who certainly did not have a very high level, but still has to be played first.
But of course, it is certainly part of the truth that the German U21s played against the Hungarians too slowly for a long time. That means that the guys on the lawn had too little sharpness in the passing game and there was a lack of runs and sprints in depth, which you absolutely need against such a deep and destructive opponent like Hungary to pull him apart and so on To create opportunities.
But Kuntz reacted at halftime and, as already written, his boys implemented it really well from the 60th minute, used the space much better and of course we are happy to take the 3-0 with us. This is a sense of achievement that has really done this team good and ultimately also shows that it is one of the broader favorites of this tournament.
Because: The Netherlands, for example, did not have this sense of achievement. They did not get beyond a 1-1 draw against Romania. Germany is now going into the duel with their eternal arch-rivals with positive pressure, and with a win they can already make the final round in June. And the Netherlands? They have to win in order not to even run the risk of being eliminated in the group stage.
Accordingly, I expect a really exciting, interesting, but above all intense game. Of course, the rivalry also plays a major role, but from my point of view the prospect of an early qualification for the final round in June is motivation enough for the DFB Juniors.
But be careful: a performance like against Hungary will not be enough for the German team this time. She will have to go a step further as I expect the Netherlands to step on the gas from the start due to their table situation in the group. The Kuntz-Elf has to counter it from the first second. If that's the case, I look forward to the game extremely positively.
In any case, I'm extremely excited and I'm really looking forward to the duel between the two eternal arch-rivals Germany and the Netherlands! Hopefully we'll all see you live on ProSieben on Saturday evening from 8:15 p.m.
Until then,
Your Rene
Do you want the most important football news, videos and data directly on your smartphone? Then get the new ran app with push notifications for the most important news about your favorite sport. Available in the app store for Apple and Android.


[ source link ]
https://www.ran.de/fussball/u21/news/u21-em-kolumne-von-rene-adler-vor-deutschland-niederlande-deutschland-muss-noch-eine-schippe-drauflegen-117516

U21 U21 European Championship Column Rene Adler front Germany Netherlands Germany step