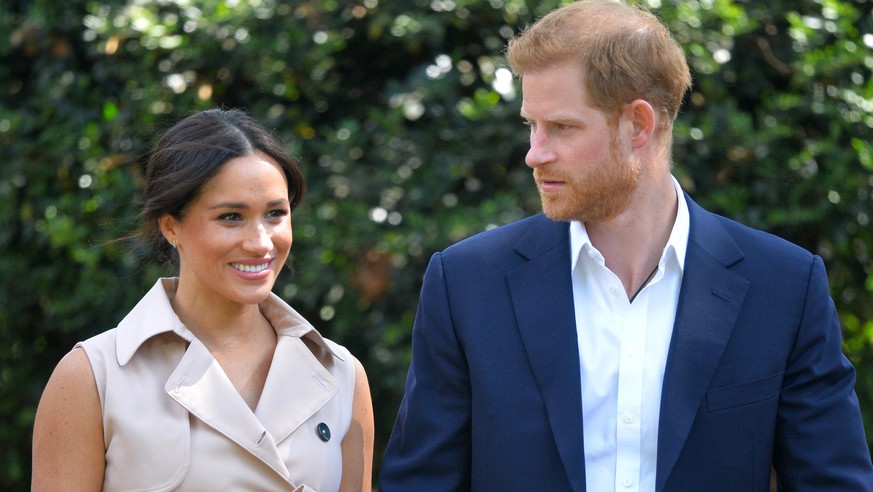 Millions of people worldwide saw Meghan and Harry's wedding on May 19, 2018 – allegedly it was the second wedding of the two. Picture: ap / Dominic Lipinski
British pastor makes it clear: Meghan and Harry's private wedding could never have happened
Lied, misunderstood or unlawful marriage? Meghan and Harry's interview with talk legend Oprah Winfrey is now triggering a lively discussion among clergy in Great Britain.
The starting point for this is Meghan's claim in a clip of the historical interview that she and Prince Harry had secretly married in their garden three days before their official ceremony on May 19, 2018: "You know, we got married three days before our wedding. Nobody knows."she proudly told Oprah. Only she, Harry and the Archbishop of Canterbury, Justin Welby, would have attended the private ceremony.
The allegations caused a stir in the Church of England for several reasons, as Newcastle pastor Mark Edwards told DailyMail. On the one hand, a number of couples had contacted him who would like to marry during the lockdown but are not allowed to because of the official pandemic regulations. Such a church, private wedding for only three would be a possibility – but only theoretically.
Edwards always had to cancel the couple before and after the interview with Harry and Meghan, because such a wedding simply does not comply with the statutes of the English Church. Accordingly, two witnesses must always be present, and the public must also have "unrestricted access" to the ceremony in order to enable any objections to the marriage. And after all, you can't marry the same person in church twice in a row, as it should have happened according to Meghan's statements.
Meghan on her official wedding day. Bild: X90183 / DARREN STAPLES
Meghan is said to have misunderstood the alleged garden wedding
Edwards therefore asked Archbishop Welby, who at least once publicly married the actress and the prince, what was true of Meghan's claims. According to "DailyMail" he was told that Welby "does not conduct private weddings". Furthermore, Meghan is American, "she does not understand". Finally, Edwards added that he was informed:
Other experts have also already assessed that any form of marriage, if one took place before the official wedding, has no legally binding validity. Justin Welby does not want to comment personally on Meghan's statements, as it is a private matter.
Other clergy are discussing the supposed private wedding
Other British pastors have already condemned the silence, they want clarity on the matter. Pastor Tiffer Robinson, vicar in Suffolk, wrote quite diplomatically on Twitter about the supposed garden wedding: "Meghan has the right to see it as her wedding if she wants to. Americans have far fewer specifics in marriage law than the English clergy."
Other clergy wondered whether Meghan could have confused a dress rehearsal for the wedding with a wedding. However, if Welby made an exception for the couple and they still married despite everything, that would be fatal for the Church of Englang.
Pastor Green noted on Twitter with concern: "You can't get married twice. So what exactly was that three days before? And if it was a wedding, what on earth did we do in front of the cameras during the church ceremony on the occasion of the marriage – just play?"
Now it remains to be seen whether the archbishop will not comment on this matter after all. In any case, one thing is certain: If it turns out that the private wedding was a misunderstanding, Meghan's other statements in the interview will trigger further discussions. At least her claim caused astonishment among royal experts that she was a Princess Diana fan, but knew next to nothing about the royal family before she married Harry.
(cfl)


[ source link ]
https://www.watson.de/unterhaltung/royals/298690607-wirbel-um-royals-hochzeit-pfarrer-stellt-klar-diese-meghan-aussage-ist-falsch

Whirl royal wedding pastor clear Meghan statement wrong