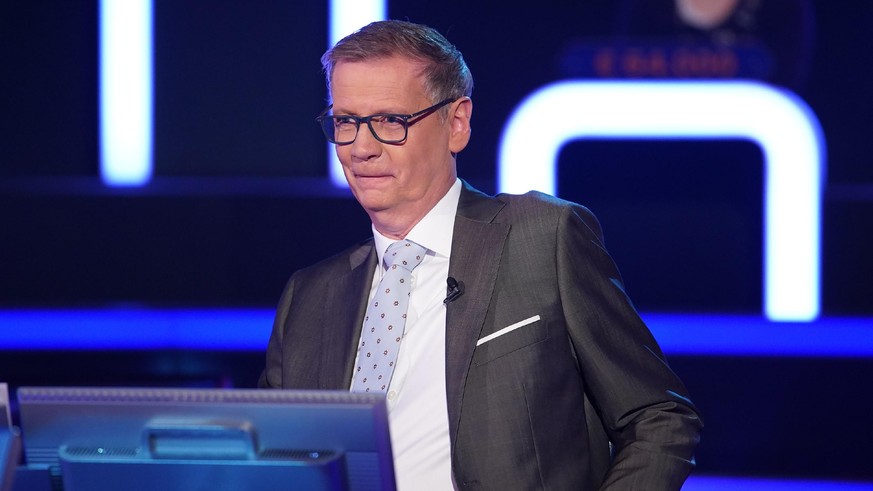 Candidate Jonni di Sante was helped by Günther Jauch. Image: TVNOW / Stefan Gregorowius
Too many clues? Viewers reproach Günther Jauch

For Jonni di Sante it was on Monday evening at "Who Wants to Be a Millionaire?" not really round from the start. The 47-year-old picked up where he left off last time. First he had to face the 1000 euro question. But before it could even start, Günther asked Jauch whether he had had difficult days. The answer was prompt: "Sleepless nights." At least one wish has already been fulfilled, namely, "to sit in the front with Günther Jauch," said the candidate.
He was able to easily overcome the first hurdle of the evening with the following question: "What is still usually kept today that originally gave it its name? A: glove compartment, B: wallet, C: glasses case, D: safe". The correct answer was of course "C", which is also what di Sante typed. But even the 2000 euro question should pose his first biggest challenge on the show.
WWM candidate needs help from Günther Jauch
After all, the moderator wanted to know: "When it comes to a certain species of fish, one differentiates between bluefin, yellowfin and black fins …? A: tuna, B: swordfish, C: octopus, D: shark". Jauch gave the butcher master a wise tip: "If you haven't heard of anything, you'd better be careful." Di Sante followed Jauch's advice dutifully and decided to interview all candidates. Embarrassed, however, he added: "The fish counter is on my far left. The fish woman who was supposed to see this is now very piqued."
Jauch then quipped: "She lovingly sorted the cutlets." Of course, "D: Haifisch" was not correct, but "A: Tuna". 88 percent of the former candidates were therefore pretty sure and helped the father of a daughter to 2000 euros. But it got tricky again with the 4,000 euro question, which was: "Who elects the Federal Assembly in this country? A: Federal Chancellor, B: Federal President, C: Federal Constitutional Judge, D: Bundestag President".
Continue reading: Help for "WWM" candidate: Günther Jauch responds to criticism
The candidate struggled to correctly interpret Jauch's pointers. TVNOW/ Stefan Gregorowius
The candidate shone here with total ignorance and admitted: "I've never heard of the Federal Assembly. You have to know what's going on politically. Do you know that?" Jauch nodded and immediately said "yes". The joker answer "would guess the chancellor", which of course was anything but helpful here. The 47-year-old was slowly taking it with humor and said: "Remember, read more about politics." Immediately afterwards, the 50:50 joker had to believe in it. Only "B: Federal President" and "D: Bundestag President" remained.
Di Sante then summarized the debacle as follows: "I thought I could get a little higher. Now I've shot all three Jokers." But Jauch did not let him down and tried to guide him to the correct answer:
Günther Jauch tried to help the candidate. TVNOW/ Stefan Gregorowius
Why the candidate almost failed despite help
The candidate is a member of an Aikido club, so Jauch tried to use a realistic example to make it clear who elects the club president. The candidate's answer then was: "From the Aikido meeting". And further: "I can't have that many clues, then it's 'D'. I don't understand." It quickly dawned on him that this choice couldn't be so right after all.
Meanwhile Jauch turned to the audience and said ironically: "I wanted to thank you for coming as a candidate, we won't need you today. Wasn't there something else here for you? I'm holding back now and please make a short-term decision. " After Jauch made it unmistakably clear that "D: Bundestag President" could not be correct, the candidate fortunately tipped "B: Federal President" at the last moment.
Jonni di Sante had to be content with 4000 euros. Image: TVNOW / Stefan Gregorowius
Jauch quipped: "I thankfully accept the election result." He then added: "We will not discuss it any further, the Aikido President is elected by his members, so the Bundestag President is elected with sufficient certainty by the Bundestag. That was my donkey bridge, but not all donkeys step on it. We drag ourselves to the 8000 question. From now on I'll keep my mouth shut, I promise. " Thus at least the 4000 euros were safe.
Some viewers were outraged that Jauch helped the candidate so often.
Viewers criticize Jauch
When the next question was asked, the candidate clearly had to admit defeat and could no longer count on the help of Jauch, who wanted to know: "Which world champion recently changed from one 'old lady' to another – as far as the employer was concerned? Sami Khedira, B: Mesut Özil, C: Mario Götze, D: Kevin Großkreutz ". He quickly replied: "That is too risky for me." So it was clear that he had to go home with only 4,000 euros. By the way, he would have guessed Mario Götze, which would have failed mercilessly, because right would have been Sami Khedira, who last played at Juventus Turin and now at Hertha BSC.
In the end, Jauch stated: "I think 4000 euros is one of the rarest prizes there are. Many people win 500 euros or sometimes 1000, 8000, 16000. But 4000 is a unique selling point."
(games)


[ source link ]
https://www.watson.de/unterhaltung/tv/801047981-wer-wird-millionaer-zuschauer-machen-moderator-jauch-vorwuerfe-frechheit

Millionaire Viewers reproach moderator Jauch Cheek