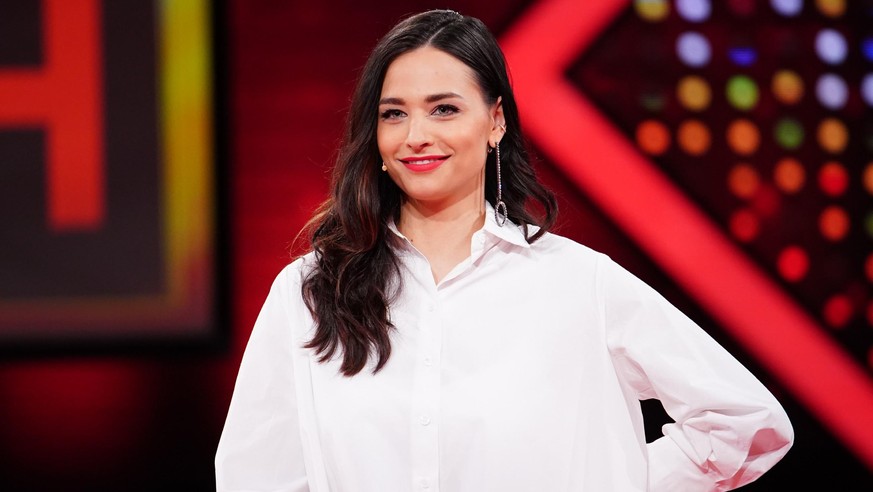 Amira Pocher became a mother again in December. She has her hands full at home. Image: TVNOW / Stefan Gregorowius
"Exhausted mom": Amira Pocher shows how stressed she is – with a photo to prove it
Amira Pocher became a mother for the second time last December and is now apparently under real pressure at home. It wasn't until January, for example, that she revealed in the podcast "Die Pochers hier!" That the youngest son keeps his parents busy even at night. By the way, she also took Oliver's responsibility and said: "You are overwhelmed. You have not yet managed to calm him down. Everyone can do it except you."
Now the 28-year-old also addressed her baby stress quite openly on Instagram. There she posted a photo that could hardly be more telling.
Amira Pocher shares private insight
Amira looks really exhausted in the picture. In addition, she also separately refers to her dark circles and baby vomit on her sweater. In doing so, she complied with the request of a follower who wanted a picture of her "as an exhausted mom". It should definitely be an "authentic picture". Amira definitely followed suit.
Amira Pocher gives her followers an honest insight into her everyday life as a mother. Image: amirapocher / instagram
The mother of two is well known for discussing her private life in podcasts or on Instagram. Most recently she talked about panic attacks, for example, which she has suffered from for a while. Now she wants to go into therapy. Her husband supports this project and said: "You have to be cured. The bad thing is, we did everything possible, it went from one day to the next on the plane out of nowhere."
With the latest photo from Amira's Instagram story, many followers should now be able to identify. The native Austrian is also valued and celebrated by her fans for her authenticity.
She recently revealed on Instagram that she is currently looking for a breathing monitoring system for babies and asked her community for recommendations. When asked, she said that everything was fine with the little one. By purchasing such a device, she just wanted to be on the safe side and "sleep more peacefully" herself.
Meanwhile, her husband Oliver is launching a new show on RTL with "Pocher vs. Influencer" on April 7th. As is well known, the comedian has a very special relationship with influencers, after all he deals with them all the time in his "screen control" and does not mince his words.
(ju)


[ source link ]
https://www.watson.de/unterhaltung/stars/314755908-mit-beweisfoto-alltagsszene-amira-pocher-schonungslos-ehrlich

photo evidence everyday scene Amira Pocher relentlessly honest