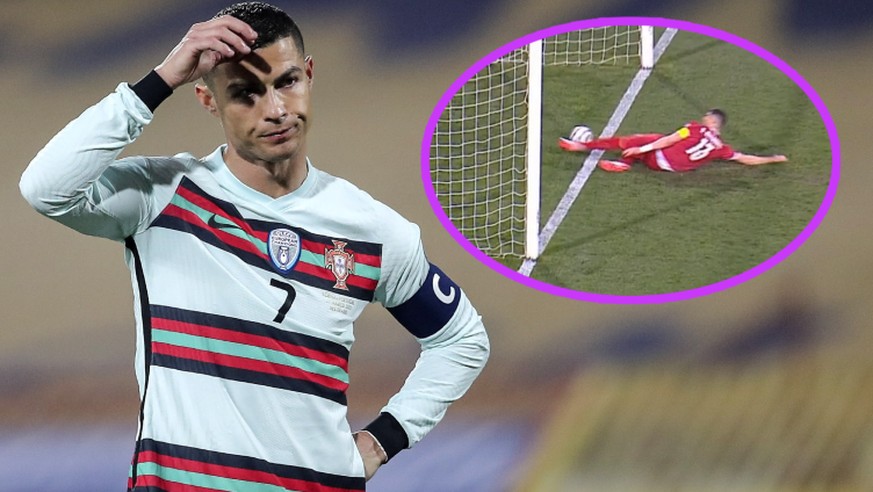 Cristiano Ronaldo and Portugal lose a 2-0 lead against Serbia. Image: keystone
No VAR! Ronaldo's "winning goal" later disallowed – Ireland embarrassed itself against Luxembourg
Group A
Serbia 2-2 Portugal
Portugal left two points in the World Cup qualification against Serbia despite a 2-0 lead. Thanks to a double from Diego Jota in the first half, the Portuguese are actually leading comfortably, but Serbia quickly equalizes after the break through Aleksander Mitrovic and Filip Kostic.
In the final phase, the events roll over: First Nikola Milenkovic is off the field in the 92nd minute with yellow-red, a minute later Cristiano Ronaldo then scores 3: 2. His shot into the orphaned housing was clearly behind the goal line, but the referee did not give the hit and because there was no VAR in the World Cup qualifying, the referee could not be overruled.
Serbia – Portugal 2: 2 (0: 2)
Belgrade. – SR Makkelie (NED).
Tore: 11. Jota 0: 1. 36. Jota 0: 2. 46. ​​Mitrovic 1: 2. 60. Kostic 2: 2. – Remarks: Serbia without Nikolic (Basel / replacement). 92. Red card against Milenkovic (Serbia).
Jota with the early lead for Portugal. Video: streamable
Jota twice before the break to make it 2-0. Video: streamable
Mitrovic shortened to 1: 2 for Serbia. Video: streamable
The 2-2 equalization of the Serbs by Kostic. Video: streamable
Ronaldo's "winning goal" that didn't count. Video: streamable
Ireland – Luxembourg 0: 1
Ireland embarrassed itself to the bone against football dwarf Luxembourg in Dublin. Gerson Rodrigues scored the 1-0 winning goal for the underdog around YB player Christopher Martins in the 85th minute. The last time Luxembourg won a qualifying game away from home was in September 2008: 2-1 in Zurich against Switzerland, coached by Ottmar Hitzfeld.
Ireland – Luxembourg 0: 1 (0: 0)
Dublin. – SR Jovic (CRO).
Tor: 85. Gerson Rodrigues 0: 1.
Remarks: Luxembourg with Martins (YB).
The Luxembourg winning goal by Gerson Rodrigues. Video: streamable
Group E
Czech Republic 1-1 Belgium
Belgium is having a hard time against the Czech Republic in Prague and has to be content with a hard-won 1-1 draw. Lukas Provod gave the Czechs the lead with a nice shot from the edge of the penalty area shortly after the break, but Inter-Star Romelu Lukaku equalized after 61 minutes and saved the "Red Devils" at least one point.
Czech Republic – Belgium 1: 1 (0: 0)
Frag. – SR Collum (SCO).
Tore: 50. Conduct 1: 0. 60. Luke 1: 1.
Provod brought the Czech Republic 1-0 up shortly after the break. Video: streamable
Lukaku equalizes to 1-1 for Belgium. Video: streamable
Belarus – Estland 4: 2
Thomas Häberli suffered the second defeat as the national coach of Estonia. The former coach of FC Luzern, who is in quarantine with the Estonians due to a corona case, sees the 2: 4 in Minsk against Belarus from a distance. Three days earlier, Estonia had lost 6-2 to the Czech Republic.
Belarus – Estland 4: 2 (1: 1)
Minsk. – SR Hennessy (IRL).
Tore: 31. Anier 0: 1. 45. Lisakowitsch (foul penalty) 1: 1. 55. Anier 1: 2. 64. Kendysh 2: 2. 81 Sawizki 3: 2. 84. Lisakovich 4: 2.
Remarks: 77. Second yellow card to Oigus (Estonia).
Group G
Netherlands 2-0 Latvia
The Netherlands have rehabilitated themselves for the surprising defeat at the World Cup qualifier against Turkey. Thanks to a strong performance, the team of "Bondscoach" Frank de Boer celebrated a sovereign 2-0 win over Latvia. Steven Berghuis scored after just over half an hour and Luuk de Jong in the middle of the second half.
The French Stephanie Frappart makes football history as the first female referee in the men's World Cup qualification.
What also happened today:
Netherlands – Latvia 2: 0 (1: 0)
Amsterdam. – 5000 spectators. – SR Frappart (FRA).
Tore: 32. Mountain house 1: 0. 69. De Jong 2: 0.
Remarks: Latvia with Uldrikis (Sion / up to 46th), without Oss (Lugano).
Berghuis scores wonderfully to make it 1-0 for the Dutch. Video: streamable
De Jong increased to 2-0 for "Oranje". Video: streamable
Norway 0-3 Turkey
In the parallel game, the Swiss European Championship opponents Turkey confirmed their strong form and swept away with 3-0 over Norway. Erling Haaland and Co. have no trick against the furious Turks – Ozan Tufan with a brace and Caglar Söyüncu get the goals for the sovereign leader of Group G. In the final phase Norway's Kristian Thorstvedt also has to leave the field because of a rough foul with red.
Norway – Turkey 0: 3 (0: 2)
Malaga (ESP). – SR Hernandez (ESP).
Tore: 4th Flood 0: 1. 28.London 0: 2. 59.The Flood 0: 3.
Tufan with the early 1-0 lead for the Turks. Video: streamable
Söyüncü double to 2-0 for the guests after. Video: streamable
Tufan tied his double with the 3-0. Video: streamable
Another telegram:
Montenegro – Gibraltar 4: 1 (2: 1)
Podgorica. – SR Schüttengruber (AUT).
Tore: 26. Beqiraj 1: 0. 30. Styche (Foulpenalty) 1: 1. 43. Simic 2: 1. 53. Tomasevic 3: 1. 80. Jovetic 4: 1
Group H.
Croatia 1-0 Cyprus
World Cup finalist Croatia has reported back after the surprising 1-0 defeat against Slovenia at the beginning with an arduous victory. The team around the new record international Luka Modric (135 caps) defeated Cyprus 1-0. The only goalscorer is Marko Pasalic shortly before the break.
Croatia – Cyprus 1: 0 (1: 0)
River. – SR Tower (EST).
Tor: 40. Pasalic 1:0.
Pasalic heads Croatia 1-0 up front. Video: streamable
Russia 2-1 Slovenia
Russia also wins in the second game of the World Cup qualifying and puts Slovenia in their place with 2-1 in Sochi. After the surprise victory of the Slovenes against Croatia, the guests start the game again with a lot of self-confidence, but Artem Dzyuba gets the Russians on track with a brace before the break. Atalanta legionnaire Josip Ilicic leads Slovenia back a little later, but the equalizer does not fall in a fast-paced game.
Russia – Slovenia 2: 1 (2: 1)
Sotschi. – SR Di Bello (ITA).
Tore: 26. Dzyuba 1: 0. 35. Dzyuba 2: 0. 36. Ilicic 2: 1.
Remarks: Slovenia with Lovric (Lugano / up to 86th), without Kramer (Zurich).
The 1-0 for Russia by Dzyuba. Video: streamable
Captain Dzuyba increases to 2-0 for the Russians. Video: streamable
Ilicic only hits the 1: 2 connection goal. Video: streamable
Another telegram:
Slovakia – Malta 2: 2 (0: 2)
Trnava. – SR Lechner (AUT).
Tore: 16. Gambin 0: 1. 20. Satarian 0: 2. 49. Scorer 1: 2. 53. Cabinet 2: 2. (for / sda)
THANK YOU FOR THE ♥
Would you like to support watson and journalism? Learn more
(You will be redirected to complete the payment)
The best World Cup moments in comics
Büne Huber: "Football is a pussy sport!"
You might also be interested in:
Subscribe to our newsletter


[ source link ]
https://www.watson.ch/sport/fussball/953023730-wm-qualifikation-cristiano-ronaldo-und-der-grosse-var-aerger

World Cup qualification Cristiano Ronaldo big VAR trouble