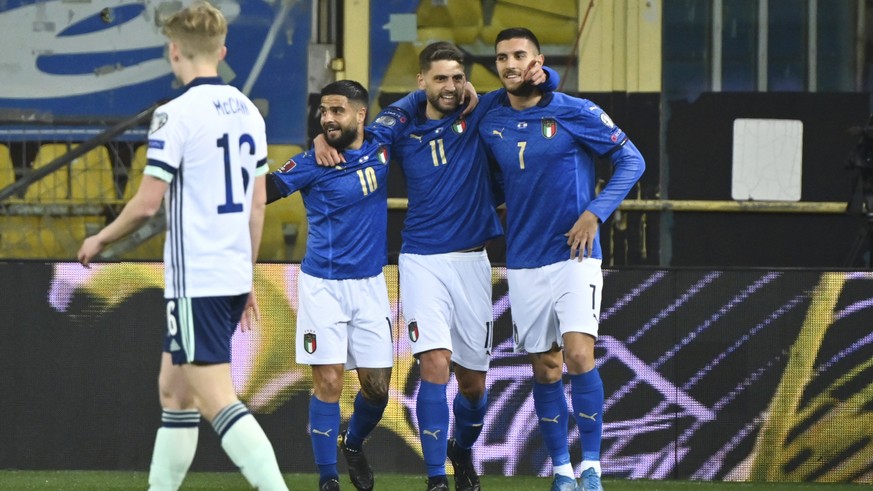 The Germans clearly prevailed against Iceland at the start. Image: keystone
Germany and Italy win undisturbed – Spain fails against Greece
Group C
Bulgaria – Switzerland 1: 3
Vasil Levski National Stadium. – No spectators. – SR Dabanovic (MNE).
Tore: 7. Embolo (Rodriguez) 0: 1. 10. Seferovic (Shaqiri) 0: 2. 13. Shaqiri 0: 3. 46. ​​Despodov 1: 3.
Bulgaria: Plamen Iliev; Popov, Dimov, Boschikov, Sanev, Cicinho (70. Zvetanov); Malinov (70. Chotschev), Kostadinov; Yomov (70. Ilian Iliev), Despodov (48. Delev); Dimitar Iliev (46. Atanas Iliev).
Switzerland: Sommer; Elvedi, Akanji, Rodriguez; Mbabu, Freuler (86. Sow), Xhaka, Zuber (75. Zakaria); Shaqiri (75. Vargas); Embolo (90. Mehmedi), Seferovic (86. Gavranovic).
Remarks: Bulgaria without Galabinov (injured), Switzerland without Schär, Steffen and Omeragic (all injured).
Warnings: 54. Akanji (Foul). 69. Cicinho (Foul).
Italy 2-0 Northern Ireland
In the 23rd game without defeat the Italians under coach Roberto Mancini outwitted Sassuolo's striker Domenico Berardi Northern Ireland's poorly positioned goalie Bailey Peacock-Farrell in the 14th minute from a tight angle.
The 1-0 through Domenico Berardi. Video: streamja
The 2-0 before the break with a shot by Ciro Immobile from the right side of the penalty area did not seem untenable and came about after a quick switch game.
With away wins in Bulgaria (Sunday) and Lithuania (Wednesday), the Italians, who have been unbeaten since September 2018, will be able to reinforce their favorite position in the Swiss group in the next few days. The first duel against Switzerland is on September 5th, the second on November 12th.
Italy – Northern Ireland 2-0 (2-0)
Parma. – SR Palabiyik (TUR).
Tore: 14. Berardi 1: 0. 39. Florenzi 2: 0.
Italy: Donnarumma; Florenzi, Bonucci, Chiellini, Emerson (75. Spinazzola); Pellegrini (63. Barella), Locatelli (84. Pessina), Verratti; Berardi (75. Chiesa), Immobile, Insigne (84. Grifo).
Northern Ireland: Peacock-Farrell; Smith, Cathcart, Jonny Evans, Dallas; Corry Evans (46. Saville), McNair, Davis, McCann (78. Thompson); Whyte (64. Lavery), Magennis (78. Lafferty).
Group B
Spain 1-1 Greece
Right at the start of the World Cup qualifying, the Spaniards can't get past a draw against Greece. Morata gives the hosts the lead in the first half, but the Greeks can convert a penalty to 1-1 in the 57th minute. It stays that way until the end, as the Spaniards have no brilliant ideas against defensive Greeks despite 77% possession.
Álvaro Morata gives the Spaniards a 1-0 lead. Video: streamja
Anastasios Bakasetas scores 1: 1 with a penalty. Video: streamja
Spain – Greece 1: 1 (1: 0)
Granada. – SR Guida (ITA).
Tore: 33. Morata 1: 0. 56. Bakasetas (Foulpenalty) 1: 1.
Spain: Unai Simon; Llorente, Ramos (46. Martinez), Garcia, Gaya; Olmo (64. Pedri), Rodri, Koke (72. Thiago), Torres (72. Oyarzabal), Morata, Canales (64. Gil).
Sweden – Georgia 1-0
In Solna, Zlatan Ibrahimovic celebrated a successful return to the Swedish national team five years after his resignation. The 39-year-old striker delivered the template for Viktor Claesson's winner in the 35th minute of the 1-0 win against Georgia.
Victor Claesson scores after Zlatan Ibrahimovic's presentation. Video: streamable
Sweden – Georgia 1: 0 (1: 0)
Solna. – SR Bastien (FRA).
Tor: 35. Kulusevski 1: 0.
Group F.
Israel 0-2 Denmark
The 1-0 by Martin Braithwaite. Video: streamja
The 2-0 through Jonas Wind. Video: streamja
Israel – Denmark 0: 2 (0: 1)
Tel Aviv. – SR Pawson (ENG). –
Tore: 13. Braithwaite 0: 1. 67. Wind 0: 2. (sda)
Scotland – Austria 2-2
Sasa Kalajdzic brings the guests 1-0 lead. Video: streamja
Grant Hanley heads the ball into the net to make it 1-1. The free kick came from Stephen O'Donnell. Video: streamja
Sasa Kalajdzic's second goal puts Austria back in the lead. Video: streamja
John McGinn's overhead kick to make it 2-2. Video: streamja
Scotland – Austria 2: 2 (0: 0)
Glasgow. – SR Del Cerro Grande (ESP).
Tore: 55. Kalajdzic 0:1. 71. Hanley 1:1. 80. Kalajdzic 1:2. 85. McGinn 2:2.
Remarks: Austria with Schaub (Lucerne / from 68th), without Lindner (Basel / replacement).
Group I
England – San Marino 5:0
The English can celebrate a mandatory win in their first game. After just half an hour, the home side are 3-0 up. Double goalscorer Calvert-Lewin and Joker Ollie Watkins increase to 5-0 in the second half.
James Ward-Prowse made it 1-0 Video: streamja
Dominic Calvert-Lewin heads the 2-0 after the cross from Reece James. Video: streamja
Raheem Sterling increased to 3-0 after the San Marino mistake. Video: streamable
Dominic Calvert-Lewin with his second goal to make it 4-0. Video: streamable
Ollie Watkins scores to make it 5-0. Video: streamable
England – San Marino (3:0)
London. – SR Lewnikow (RUS).
Tore: 14. Ward-Prowse 1:0. 21. Calvert-Lewin 2:0. 31. Sterling 3:0. 53. Calvert-Lewin 4:0. 83. Watkins 5:0.
England: Pope; James (46. Trippier), Coady, Stones (46. Mings), Chilwell; Phillips, Ward-Prowse; Lingard, Mount (46. Bellingham), Sterling (46. Foden), Calvert-Lewin (63. Watkins).
Andorra – Albania 0: 1
The 1-0 for Albania by Ermir Lenjani. Video: streamja
Andorra – Albania 0: 1 (0: 1)
Andorra la Vella. – SR Tschinko (BUL).
Tor: 41. Lenjani 0: 1.
Remarks: Albania with Lenjani (GC / up to 80th).
Hungary 3-3 Poland
While England made an easy start in qualifying for the 2022 World Cup in Qatar with a 5-0 win against San Marino, England's first challenger Poland in Hungary struggled to a 3: 3 after two defeats. Robert Lewandowski secured the Poles at least one point in the first game under Basel's ex-coach Paulo Sousa with the equalization in the 83rd minute.
Roland Sallai made it 1-0 for Hungary. Video: streamable
The 2-0 for the hosts through Adam Szalai. Video: streamja
Joker Krzysztof Piatek scores shortly after being substituted on. Video: streamja
Kamil Jozwiak, who has also just been substituted, equalizes to make it 2-2. Video: streamable
Willi Orbán from Leipzig puts Hungary back in the lead. Video: streamable
Robert Lewandowski still makes his goal. He equalizes to 3: 3. Video: streamable
Hungary – Poland 3: 3 (1: 0)
Budapest. – SR Brych (GER).
Tore: 6. Sallai 1: 0. 53. Szalai 2: 0. 60. Piatek 2: 1. 61. Jozwiak 2: 2. 78. Orban 3: 2. 83. Lewandowski 3: 3.
Remarks: Hungary without Kecskes (Lugano). 94. Second yellow card to Fiola (Hungary).
Group J
Germany – Iceland 3-0
Before the game, the Germans set an example against the World Cup in Qatar. Image: keystone
Joachim Löw's farewell tour after the announced resignation in the summer began with a 3-0 win against Iceland. When Italy beat Northern Ireland 1-0, Germany was already leading by two lengths in the first game after the 0: 6 against Spain at the end of the unsuccessful year 2020.
Leon Goretzka scored the 1-0. Video: streamja
Leon Goretzka after a combination with Bayern teammates Joshua Kimmich and Serge Gnabry and Kai Havertz after preliminary work by Kimmich and Leroy Sané met in Duisburg in the first seven minutes. After the break, Ilkay Gündogan increased from a distance.
Joshua Kimmich initiates Kai Havertz's 2-0 with a dream pass. Video: streamable
Ilkay Gündogan made it 3-0. Video: streamable
Germany – Iceland 3: 0 (2: 0)
Duisburg. – SR Jovanovic (SRB).
Tore: 3. Goretzka 1-0. 7. Havertz 2-0. 56. Gündogan 3: 0.
Germany: New; Klostermann, Rüdiger, Can, Ginter; Gündogan, Kimmich, Goretzka (71st Neuhaus), Sané (79th Werner), Gnabry (87th Younes), Havertz (79th Musiala).
Liechtenstein – Armenia 0-1
Frommelt's own goal to make it 0-1. Video: streamja
Liechtenstein – Armenia 0: 1 (0: 0)
Vaduz. – SR Weinberger (AUT).
Tor: 84 Frommelt (own goal) 0: 1.
Romania – Northern Macedonia 3: 2
The 1-0 through Florin Tanase. Video: streamja
Valentin Mihaila made it 2-0. Video: streamja
Arijan Ademi achieves this 1: 2 per head. Video: streamja
The interim equalization by Aleksandar Trajkovski. Video: streamja
Ianis Hagi scores the winning goal for the Romanians. Video: streamja
Romania – Northern Macedonia 3: 2 (1: 0)
Bukarest. – Verissimo (POR).
Tore: 28. Tanase 1: 0. 50. Mihaila 2: 0. 83. Ademi 2: 1. 84. Trajkovski 2: 2. 86. Hagi 3: 2.
THANK YOU FOR THE ♥
Would you like to support watson and journalism? Learn more
(You will be redirected to complete the payment)
The football record goal scorers of the top nations
A matter for the boss: No football fans in the office, please!
You might also be interested in:
Subscribe to our newsletter


[ source link ]
https://www.watson.ch/sport/fussball/915237578-wm-qualifikation-deutschland-und-italien-mit-siegen-spanien-patzt

World Cup qualification Germany Italy victories Spain fails